Russia Denies Trying to Influence U.S. Presidential Election
By and
Lawmaker says Kremlin accused to hide Democratic scandal

Russia isn't backing either Trump or Clinton, Kosachyov says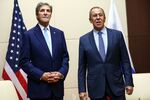 A top Russian lawmaker rejected accusations that his country is trying to influence the U.S. presidential election by compromising Democratic candidate Hillary Clinton through leaked e-mails that were stolen from her party's computers by hackers.
President Barack Obama said it's possible that Russia is interfering in the U.S. presidential race in an interview with NBC on Tuesday in which he also remarked that Republican nominee Donald Trump is getting "pretty favorable" Russian media coverage.
"There's no way for us to have a preference for Trump or Clinton," Konstantin Kosachyov, head of the foreign affairs committee of the Federation Council, Russia's upper house of parliament, said by phone Wednesday. "It's absolutely clear that Russia doesn't have either the desire or the means to influence the electoral campaign."
While White House officials have refrained from accusing Russian President Vladimir Putin's government directly of interfering in the elections, Clinton campaign chairman John Podesta said on Tuesday that he knows "pretty well now that the attacks came from" Russia. An FBI probe considers Russia a leading suspect in the hacking of Democratic National Committee computers that resulted in the theft of e-mails and internal reports, according to a U.S. official with knowledge of the investigation. Cyber specialists say the infiltration and last week's release to WikiLeaks of almost 20,000 Democratic Party e-mails bear the hallmarks of Russian hackers.
Russia Card
The Kremlin has denied any Russian involvement. Allegations concerning hackers should be "precise" and detailed, Putin's spokesman Dmitry Peskov told reporters on a conference call Wednesday. It's regrettable that Washington politicians are playing the Russia card during the election campaign, he said.
The leak of the e-mails, which happened on the eve of the Democratic convention that nominated Clinton, indicated favoritism among party officials toward the former secretary of state over her defeated rival Bernie Sanders. It sparked a scandal that forced the resignation of DNC Chairwoman Debbie Wasserman Schultz.
"The scandal isn't about how this leak happened," Kosachyov said. "The scandal is about the facts that the leak exposed. And these facts are a very unpleasant topic for the Democratic Party leadership and I think Clinton must feel very awkward right now in front of Sanders and his supporters."
Hacking Groups
An internal investigation of the DNC attack led by CrowdStrike Inc. traced the hack to two groups classified as advanced persistent threats (APT). The groups, APT 28 and APT 29, are associated with the Russian Federal Security Service, the main successor to the Soviet-era KGB, and the Main Intelligence Directorate, a branch of the Defense Ministry, according to CrowdStrike.
APT 28 "is the most notable" among Russian groups that attack government entities, Alexander Gostev, chief expert at Moscow-based cybersecurity company Kaspersky Lab, said in an interview. The group has operated since 2007 and substantially changed its toolkit over the past year after APT 28-linked malware was widely detected in Ukrainian government computers during 2014 elections in the former Soviet republic, he said.
Asked by reporters to comment on the hacking allegations as he began talks that focused on Syria with U.S. Secretary of State John Kerry in Laos on Tuesday, Russian Foreign Minister Sergei Lavrov replied: "I wouldn't like to use English four-letter words."
Before it's here, it's on the Bloomberg Terminal.
LEARN MORE