Putin Says Russian Athletes Treated Unfairly Over Olympic Ban
By
Politics got many barred without evidence, president says

Isinbayeva says dreams were taken from track-and-field team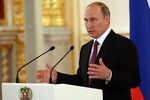 President Vladimir Putin said many of Russia's athletes, including in track-and-field, are being unfairly banned from the Olympics over a doping scandal because there's no evidence against them of wrong-doing.
"We can't accept the indiscriminate disqualification of our athletes with absolutely, I want to stress this, absolutely clean doping histories," Putin said Wednesday at a Kremlin meeting with members of the Russian Olympic squad, including some barred from the games in Rio de Janeiro. The doping controversy exceeded legal bounds and common sense, causing "undeserved suffering" for some on the team, he said.
Russia's track-and-field team is being punished collectively for the actions of less responsible sportsmen who broke the rules and squad members were banned without proof against them, pole vaulter Yelena Isinbayeva told Putin. She shed tears during the meeting as she told him that athletes' dreams have been taken away.
For a QuickTake explainer on sports doping, click here
More than 100 Russian athletes, including the track-and-field squad, have been banned so far out of 367 candidates submitted to the governing bodies of individual sports federations for the games that begin Aug. 5. The bodies are deciding after the International Olympic Committee on Sunday stopped short of imposing a complete ban on Russia's entrants following an independent report that exposed a massive state-backed doping program. Putin complained after the doping report was published July 18 that sport was being turned into a tool of "geopolitical pressure."
Doping Tests
The IOC ruled that Russian athletes can compete in Rio only if they are able "to provide evidence to the full satisfaction of his or her international federation" that anti-doping requirements set out in "reliable adequate international tests" have been met. Russian tests were deemed invalid, according to a statement by the Lausanne, Switzerland-based organization.
While it's unclear how many Russians will be allowed to compete in Rio and it won't be easy for those who do go, "we believe in you and wish you success," Putin told the team. "Short-sighted politicians haven't left sport in peace," though competition is meant to bring people and nations together, he said.
Putin has tried to frame the doping scandal in the context of Russia's tensions with the West following the 2014 annexation of Crimea and the separatist conflict in eastern Ukraine, which erupted weeks after he triumphantly hosted the Winter Olympics in Sochi.
'Systematic Scheme'
The report by Richard McLaren, which was commissioned by the World Anti-Doping Agency (WADA), found that the Russian Ministry of Sport "directed, controlled and oversaw the manipulation" of athletes' test results from 2011 to 2015. The "systematic scheme" included efforts by the Federal Security Service, the country's main successor to the Soviet-era KGB, to swap out athletes' positive urine samples at the Sochi games, it said.
The IOC has ordered a full inquiry into all Russian athletes who competed in Sochi. Putin personally oversaw preparations for the $50 billion games, the most expensive in Olympic history, and Russia took first place with 33 medals, including 13 golds.
The McLaren report found that the doping program was developed after the Russian team finished 11th at the 2010 games in Vancouver, its worst performance since the collapse of the Soviet Union. It's "inconceivable" that Russian Sports Minister Vitaly Mutko was unaware of the efforts to hide positive doping results for athletes, McLaren told reporters at a press conference in Toronto.
Putin last week ordered the creation of a new anti-doping commission, headed by Vitaly Smirnov, a former Soviet sports official. Mutko has suspended his deputy who was identified in the report as running the doping program, and said Russia's ready to change its doping system jointly with WADA.
Before it's here, it's on the Bloomberg Terminal.
LEARN MORE