Puma Profit Tops Estimates on Soccer Gear, Women's Sneakers
by
Euro soccer tournment in France lifted brand visibility

Company reiterates sales, earnings outlook for the year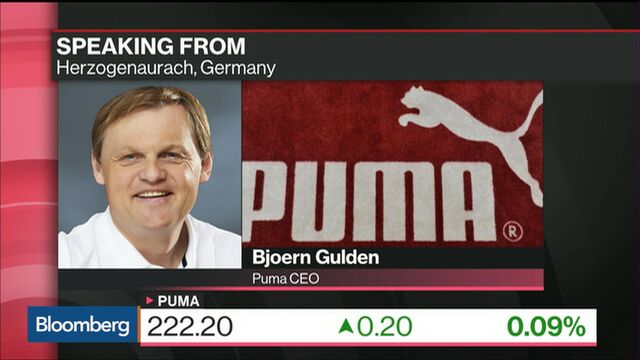 Puma SE reported second-quarter profit that topped analysts' estimates as the German sneaker maker got a lift from Europe's soccer championships and a focus on the women's market.
Earnings before interest and taxes rose to 12 million euros ($13 million), Puma said in a statement Wednesday, beating analysts' average expectation of 10.6 million euros. Sales rose 7 percent to 827 million euros, compared with the 820 million-euro consensus. The company fought negative currency-conversion effects by keeping a lid on costs.
Chief Executive Officer Bjoern Gulden, three years into a turnaround effort, is balancing sports and style, pushing brash multicolored soccer cleats and a partnership with sprinter Usain Bolt. Sales of Puma sports shoes at U.S. retailers rose 40 percent in May and 17 percent in June, helped by sales of women's sneakers, according to Matt Powell, an analyst at NPD Group. Gulden has been promoting women's designs marketed with singer Rihanna that he said has created a ''halo effect" over the whole company.
''The brand-revival plan is intact as new products resonate with customers and the cooperation with Rihanna increases media coverage and visibility," Juergen Kolb, an analyst at Kepler Cheuvreux, said in a note. He has a hold rating on Puma.
Shares of Puma fell 1 percent to 219.90 euros at 11:35 a.m. in Frankfurt.
Rival Adidas, in the midst of its own resurgence, plans to report second-quarter earnings on Aug. 4. Nike Inc. last month reaffirmed its sales forecast for the year amid keener competition that's slowing orders.
Gulden said Puma has been ''very tight" on expenses to combat a stronger U.S. dollar that reduced its gross profit margin to 45.6 percent, from 46.7 percent a year ago. But it's not tapping the brakes on marketing in order to stay competitive, he said.
The company is also studying which athletes could fill Bolt's shoes once he
retires, even as it plans to make more use of his time after his competitive
running days end. The sprinter turns 30 during the upcoming Summer Olympics in Brazil next month.
''There won't be a second Usain. But there will probably be something else,"
Gulden said on a call with reporters. ''We're working on the assumption that
we'll still use Usain as the face of the brand."

Puma left its forecast for the year unchanged and said it expects a currency-adjusted high single-digit increase in sales
Co. predicts gross margin at last year's level of 45.5 percent, and adjusted Ebit between 115 million euros and 125 million euros
Footwear sales increased 7.3 percent after adjusting for currency effects to 360 million euros, the eighth consecutive quarter they've risen
Gulden said visibility of sponsored teams and players in Euro 2016 soccer tournament helped brand
EMEA currency-adjusted sales rose 24 percent
Before it's here, it's on the Bloomberg Terminal.
LEARN MORE