OCBC Profit Slumps 15% as Loans, Insurance Income Decline
by and
Bank sees rise in nonperforming loans in oil and gas sector

Smaller rival UOB separately reports 5% gain in net income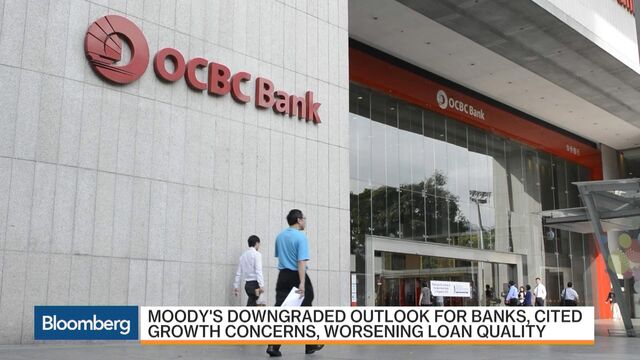 Oversea-Chinese Banking Corp., Southeast Asia's second-largest lender, reported a 15 percent decline in quarterly profit as loans contracted, provisions rose and income from its insurance unit slumped.
Net income sank to S$885 million ($655 million) in the three months to June from S$1.05 billion a year earlier, the Singapore-based bank said Thursday. That compares with the S$898 million average forecast in a Bloomberg survey of six analysts. Smaller rival United Overseas Bank Ltd. separately reported a 5 percent profit gain for the period as trading income offset declining interest margins.
Profitability at Singapore's banks is under pressure as economies cool in the Asian countries where the lenders operate, and lower domestic borrowing costs drag on net interest margins. Moody's Investors Service downgraded its outlook for the lenders on June 30, citing weaker economies and slower trade growth in the region, as well as the deteriorating quality of loans to energy firms struggling to restructure their finances following last year's historic rout in oil prices.
"We have not grown our loan book because demand is very weak," said OCBC Chief Executive Officer Sam Tsien. The bank is also being more selective in making new loans, to avoid a further build-up of troubled debt, Tsien added at a media briefing Thursday.
Nonperforming Assets
OCBC's nonperforming-loan ratio rose to 1.1 percent from 0.7 percent a year earlier, reflecting downgrades to "a number of" energy-related companies, the bank said. Troubles in the oil and gas services sector also drove the 67 percent increase in nonperforming assets to S$2.49 billion, OCBC said.
The bank may see more loans turning sour among energy-sector clients over the rest of the year, Tsien said.
Singapore's Oil Rigs Are Delaying Money Owed. That's Bad: Gadfly
"Asset quality continues to be the focus for all Singapore banks and that's definitely going to play on investors' minds," He Yuxuan, an analyst at Daiwa SB Investments (Singapore) Ltd., said Thursday by phone.
A stronger local dollar has weighed on interbank rates, which lenders use to price their domestic loans, pressuring the Singapore banks' net interest margins, a key measure of profitability. The three-month Singapore interbank offered rate lost 0.31 percentage point since December and dropped by 0.13 percentage point in the April-June period.
"The interest-rate environment will stay low in the next few quarters, so NIM will stay weak," He at Daiwa SBI said.
Shares Drop
Shares of OCBC lost 0.7 percent to S$8.79 as of 3:52 p.m. in Singapore. UOB slipped 1.6 percent to S$18.63.
Here are key figures from OCBC's results:
Net interest income fell 2 percent to S$1.26 billion from year earlier
Non-interest income slumped 16% to S$788 million
Customer loans down 2 percent to S$205 billion
Nonperforming loan ratio 1.1 percent versus 0.7 percent
Net interest margin 1.68 percent versus 1.75 percent in first quarter


A drop in trade-related lending and reduced offshore borrowings from Chinese customers also helped explain the contraction in the loan book, OCBC said. Loan growth in 2016 will be a "very low single-digit percent," Tsien said.
Non-interest income sank after profit declined at Great Eastern Holdings Ltd., the bank's insurance unit. That was mainly because of unrealized mark-to-market losses in the division's bond and stock portfolios amid "unfavorable financial market conditions," OCBC said. Excluding Great Eastern, net profit would have fallen 1 percent, OCBC said.
At UOB, second-quarter net income of S$801 million compared with S$762 million a year earlier, the bank reported Thursday. That compares with the average forecast of S$769 million in a Bloomberg survey of six analysts.
Stable UOB
"Between the two, UOB seems to have delivered the more stable results in terms of loan growth and asset quality deterioration," Kevin Kwek, an analyst at Sanford C. Bernstein, said in an e-mail.
UOB's earnings highlights include:
Net interest income fell 0.2 percent to S$1.2 billion from year earlier
Fee, commission income rose 2 percent to S$475 million
Other non-interest income climbed 36 percent to S$338 million
Customer loans up 4.9 percent to S$208.4 billion
Nonperforming loan ratio 1.4 percent versus 1.2 percent
Net interest margin 1.68 percent versus 1.78 percent in first quarter

Before it's here, it's on the Bloomberg Terminal.
LEARN MORE