Obama Says Trump's Lack of Global Savvy Is 'Scary' Before Speech
By and
President to vouch for Clinton, his former secretary of state

Biden says Republican is playing right into Putin's hands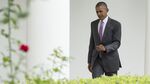 President Barack Obama and Vice President Joe Biden stoked fears about Republican presidential nominee Donald Trump's temperament and competence ahead of their speeches Wednesday night to the Democratic National Convention.
Aides have suggested Obama will focus his nationally televised speech in Philadelphia on providing voters a compelling portrait of Democratic nominee Hillary Clinton, his former secretary of state and one-time rival for the party's 2008 nomination. But in comments ahead of the speech, he emphasized doubts about Trump, portraying him as ignorant of international affairs.
Trump lacks "basic knowledge about the world" such as the differences between Sunni and Shiite Muslims in the Middle East, Obama said in an interview on NBC's "Today" show. "What I think is scary is a president who doesn't know their stuff and doesn't seem to have an interest in learning what they don't know."
Obama, who previously has expressed confidence Trump won't win the November election, also suggested he is growing more worried about the possibility in the interview, which aired Wednesday.
"Anything is possible," Obama said after weekend polling showed Trump ahead of Clinton following Republicans' week-long convention.
'Crazy Stuff'
"I've seen all kinds of crazy stuff happen," Obama said, adding anybody "who goes into campaigns not running scared can end up losing."
In a campaign in which both major candidates are struggling with high levels of public antipathy, each party has used fear of the opposing candidate to try to overcome internal divisions. Discontent among supporters of losing Democratic candidate Senator Bernie Sanders stirred anew at the start of the party's convention with the leak of e-mails showing party officials favoring Clinton during the primary campaign.
That plea was on display again Wednesday morning, following keynote speeches by former President Bill Clinton and first lady Michelle Obama vouching for Hillary Clinton's character.
Biden on MSNBC's "Morning Joe" furthered a portrait of a Trump presidency as dangerous to the U.S. role in the world, honing in on comments Trump recently made saying he wouldn't necessarily defend NATO allies attacked by Russia.
Putin's Hands
Trump is "playing directly into the hands" of Russian President Vladimir Putin, Biden said. The "overarching goal of Putin is to break up NATO and fracture Europe."
The NATO treaty is "absolutely central to our security" and "I don't think he knows what Article 5 is," Biden said, referring to the section of the treaty that requires all signing nations to defend any member of the alliance who comes under attack.
"The truth is Donald Trump knows nothing about foreign policy," Biden said. "I don't see any attempt for him to go out and get people who really know on the Republican side."
Obama also suggested he was worried about authoritarian tendencies in Trump.
"We're not a government where some strongman orders people around and banishes enemies," the president said.
Life in a Democracy
But Obama was vague when interviewer Savannah Guthrie of NBC challenged him on whether he was seeing shades of that in Trump.
"I think that it is important for us to remember that we live in a democracy, and by definition then the way we solve problems is by everybody participating and arguing and occasionally having to compromise," Obama responded.
Trump, who has spent much of the Democrats' convention offering counter-programming on Twitter to his more than 10 million followers, shot back at Biden on Wednesday.
"Our not very bright Vice President, Joe Biden, just stated that I wanted to 'carpet bomb' the enemy. Sorry Joe, that was Ted Cruz!" Trump tweeted.
Before it's here, it's on the Bloomberg Terminal.
LEARN MORE