MLS Moves to Open Its Ticket Markets, Unlike the Rest of Sports
by
New SeatGeek partnership will let fans buy and sell freely

Other leagues, teams tightly control ticket resales, prices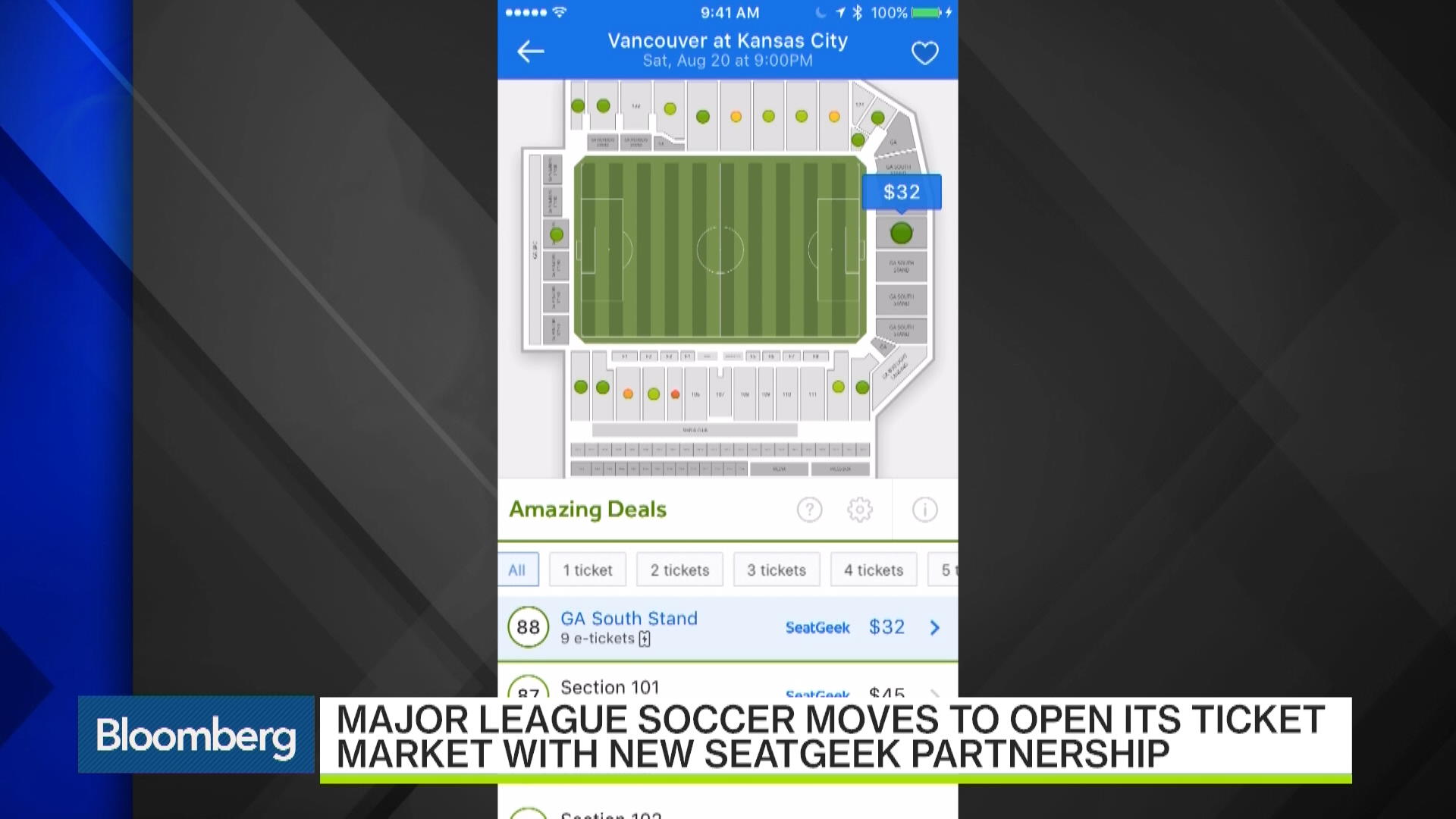 Major League Soccer is making it easier for fans to buy tickets.
Together with SeatGeek, MLS is creating an open ticketing network that will let third-party websites sell tickets to soccer games. For example, AirBnb could sell Seattle Sounders tickets alongside apartment listings in the Pacific Northwest, or New York City Football Club's fan group could make tickets available on its site.
The new system will also let fans resell their tickets anywhere and on more than one site at once. As part of the partnership, teams will use SeatGeek technology, a first for the New York City based startup, which has focused mainly on the resale market.
Opening up the ticket ecosystem bucks the trend in the sports industry, which has been closing ticket networks as tightly as possible and defending in court the right to do so. Teams, leagues and venues have aggressively limited where fans can buy tickets and where -- and for how much -- they can resell them. Former TicketMaster Chief Executive Nathan Hubbard suggested last month that teams and artists should make resale impossible in order to protect fans from being priced out by brokers.
SeatGeek co-founder Russ D'Souza believes an open system can have the same effect and give fans more options at the same time. It can also improve teams's bottom line, he says, even though ticketing companies will often pay millions for exclusive rights to handle their sales in a more closed system.
"Teams can make way more money by being more open with their inventory and not taking that check," D'Souza said. "There is a lot of money being left on the table."
MLS wants to remove any hurdle for fans to discover -- or return to -- the sport. With a young, tech-savvy fan base and revenue below the other four major U.S. sports leagues, the league has the "freedom to be a little more innovative than perhaps we might otherwise be," said Kathy Carter, president of Soccer United Marketing which oversees commercial and marketing programs for MLS.
Terms of the partnership, which makes SeatGeek the first league-wide ticketing partner in MLS history, weren't released. SeatGeek is hoping to lure more leagues and teams with their philosophy. Earlier this year, competitor StubHub became a primary ticket seller for the first time, partnering with the NBA's Philadelphia 76ers.
SeatGeek's software will allow any partner site to become a portal to sell seats. Any resale site will be able to verify the seat and sell it, which means a ticket can be listed in several places and removed once it is sold. With SeatGeek tracking tickets, teams also get more information about everyone who attends their games, a pain point in today's fractured resale world.
"In a world where data is so important, the idea that there's leakage coming out of the traditional system is, in our opinion, just crazy," Carter said.
Since its founding in 2009, SeatGeek has raised $106 million from investors including Accel Partners, Technology Crossover Ventures, Eli and Peyton Manning, the rapper Nas, Carmelo Anthony's Melo7 Tech Partners and Causeway Media Partners, an investment firm led by Boston Celtics owner Wyc Grousbeck.
Before it's here, it's on the Bloomberg Terminal.
LEARN MORE