Indonesia's New Finance Chief Is Boost for Jokowi Tax Plan
by and
Indrawati helped to clean up tax system in former role

Government bets on amnesty inflows to help fund budget gap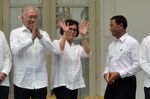 Indonesia's new finance minister spells good news for a tax amnesty plan that's a key component of President Joko Widodo's ambitious economic program.
Sri Mulyani Indrawati, 53, returns to a post she held between 2005 and 2010 when she restructured the tax office and cleaned up practices that encouraged corruption. She will need to draw on that experience to ensure the success of a tax initiative that the central bank estimates will deliver 560 trillion rupiah ($43 billion) of inflows as individuals repatriate assets held abroad.
"The idea is obviously to try and increase the take-up, maximize it as much as possible," Wellian Wiranto, an economist at Oversea-Chinese Banking Corp. in Singapore, said by phone. "So having somebody that Indonesians, as well global markets, are familiar with and quite comfortable with, I think that's a confidence boost."
Jokowi, as the president is known, is betting on the tax amnesty to bring in much-needed funds in order to continue rolling out road and port projects while keeping the budget deficit under control. Indrawati's reputation as a technocrat and economic reformer will be put to the test as she works to deliver stronger growth with revenue under strain.
Market Rally
"She will bring more credibility to the government finances in particular, and perhaps inject further reforms to accelerate the growth recovery," Erwan Teguh, an analyst at CIMB Group Holdings, said in a note to clients. "If the tax amnesty progresses well and infrastructure projects are executed in a timely manner, the good mood shall prevail" on financial markets, he said.
The Jakarta Composite Index gained 1 percent on Wednesday to close at the highest level since May 2015, while the rupiah rose 0.2 percent to 13,140 against the dollar, taking its gain this year to 4.9 percent. Yields on the benchmark 10-year bonds fell 10 basis points to 7.01 percent.

During Indrawati's previous term, she introduced new rules requiring all taxpayers to register and report their taxes. The sunset policy, like the current tax amnesty, gave people time to register and comply with the regulations.
"She basically cleaned up the house within the Finance Ministry with the help of Darmin Nasution who was reporting to her," said Wiranto. Nasution retained his position as coordinating minister of economic affairs in Jokowi's cabinet reshuffle on Wednesday.
The government said this week 989 billion rupiah ($75 million) of assets were declared in the tax amnesty as of July 26, earning it 23.7 billion rupiah in redemption fees. The central bank estimates the amnesty can earn the government 53 trillion rupiah in revenue.

The government raised its target for the budget deficit for this year to 2.35 percent of gross domestic product from 2.15 percent previously. Indonesia's fiscal rule caps the deficit at 3 percent.
"Given her previous experience, I think she can instill a lot of confidence from the public that the government can pull off the tax amnesty program successfully," Indra Mawira, an investment manager at Panin Asset Management, said by phone from Jakarta.
Before it's here, it's on the Bloomberg Terminal.
LEARN MORE