Here's What Wall Street Is Saying About Apple's Earnings Report
Optimistic overall, but not without some caution.
by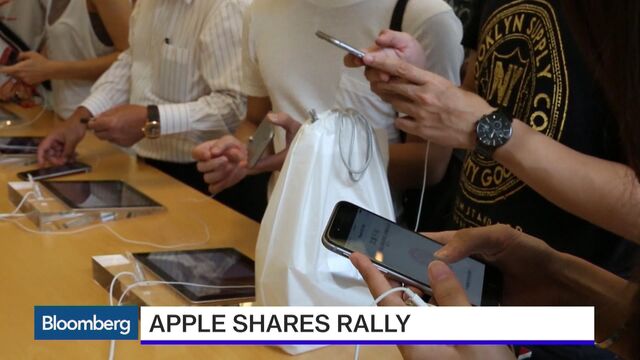 Apple Inc. released its highly-anticipated quarterly results after the bell yesterday, and analysts and investors seem to like what they see.
The company reported fiscal third-quarter revenue that beat expectations, and while iPhone unit sales fell 15 percent from a year earlier, that exceeded the average estimate on Wall Street. Shares are trading about 7 percent higher in the pre-market, showing signs of making a bigger move higher following a tough few months. 

Given the move higher, you can imagine that Wall Street is by and large pleased with earnings in the three-month period. Right now there are 44 'buy' ratings and only three 'sells,' with the average price target at $122.66. Here's a quick wrap up of what stood out to analysts parsing yesterday's results.
Piper Jaffray Co.'s Gene Munster has an overweight rating on the stock, but he did lower his price target to $151 from $153 following the report. 
"Apple's June 2016 results and September 2016 guidance implies that, while still down year-over-year, the business is trending in the right direction and should return to growth in the December 2016 quarter. We remain Overweight AAPL on our thesis that there are two opportunities for the business to inflect driven by new products in the next six quarters with the iPhone 7 this fall and the 10th anniversary iPhone in the fall of 2017. If the iPhone 7 disappoints, we believe shares of AAPL will still outperform given demand would likely get pushed into calendar year 2017 assuming a more meaningful upgrade and aging device install base."
RBC Capital Markets LLC's Amit Daryanani was pleased with the slight beat and maintained a $115 price target.
"In the current environment with $200 billion plus in cash, we believe the stock is undervalued at these levels. From a product perspective, we believe the company can continue to gain share in both the tablet and smartphone space. In our view, the smartphone space is currently a two-horse race where Apple will be one of the winners in continuing to gain market share."
Barclays Plc's Mark Moskowitz also held his overweight rating and price target of $115, but was a bit more cautious than others. 
"The model is not out of the woods with respect to structural questions related to global smartphone saturation and elongating replacement cycles, but overall results and outlook should be enough to get consensus estimates, and thereby, the stock moving higher."
Cowen and Company's Timothy Arcuri was also wary, but maintained his $125 price target.
"With results/guidance better than feared (consistent with our preview), AAPL should act better near-term. We are not fully out of the woods yet though; unless supply chain improves, we are hard pressed to see more than 70 million units for the calendar year fourth quarter meaning we would still view less than $100 as a trigger level but want a FULL position by mid to late fall as we are very bullish on 2017 given a cool new phone in a massively aging base."
Raymond James Financial Inc.'s Tavis McCourt, meanwhile, upgraded his rating on the stock to outperform with a $129 price target. 
"The big picture is that iPhone sell through has sustained somewhat better than we had forecasted, and therefore we expect year-over-year declines more moderated over the next two quarters before a return to growth in March. Unlike the last time we upgraded AAPL shares, in front of the iPhone 6 cycle, this upgrade has less to do with a 'product cycle' and the potential for there to be much more muted product cycles in the future as the smartphone industry matures."
Credit Suisse Group AG's Kulbinder Garcha maintained an outperform rating and price target of $150.
"Near-term iPhone still suffering from a weaker cycle, but [there are] signs of life. iPhone units came in at 40.4 million, which we note does not reflect some of the underlying strength. 1.) The company noted that iPhone sell through declined only 8 percent year-over-year, better than the March quarter. 2.) The installed base growth remains healthy growing double digits in many countries (+34 percent year-over-year in China), which is important for the future upgrade cycle."
Deutsche Bank AG's Sherri Scribner was one of the most cautious, maintaining a hold rating and price target of $105 a share, saying that the results simply "beat low expectations."
"AAPL reported modest upside to fiscal third quarter 2016 results on better-than-feared iPhone units, and provided guidance that was more positive than expectations. Gross margins also held up, despite a higher mix of lower margin iPhone SEs, and gross margin guidance was in line with muted expectations. It was generally a good quarter for Apple, given very low expectations. However, we continue to worry about slowing smartphone growth and elongating refresh cycles in mature markets. Given these long-term challenges, we continue to view future growth as more challenged, and see current valuations as fair."
Citigroup Inc. analyst Jim Suva maintained his outperform rating and raised his price target to $120 from $115. 
"With Apple stock underperforming the market year to date trading down -7 percent versus the S&P 500 +6 percent the bears were continually pointing to metrics that could pressure the stock further. Apple's results and outlook simply alleviated these concerns, specifically gross margins which are no longer going lower & channel inventory is at the low end of normal."
Goldman Sachs Group Inc's Simona Jankowski maintained a buy rating and price target of $124, saying there were a number of positives in the report, such as gross margins and the first growth in iPad revenue in 10 quarters.
"Apple's modest beat was consistent with our preview and is likely to drive some near-term relief in the stock, given underweight positioning heading into the print. While the June quarter is viewed as 'lame duck' given the new iPhone comes out in September, it did reveal several key positives ... Importantly, this quarter marks the bottom in year-on-year revenue growth and operating margins, as the iPhone 7 ramp and easy comps should drive acceleration in the coming quarters, which we expect to drive outperformance from here."
Before it's here, it's on the Bloomberg Terminal.
LEARN MORE