Harvard Endowment's Blyth Resigns From $37.6 Billion Fund
by
Chief operating officer Robert Ettl continues as interim CEO

David Barrett Partners hired to find replacement, school says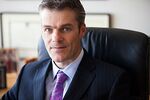 Stephen Blyth, who was named the investing chief of Harvard University's $37.6 billion endowment 18 months ago to improve the fund's lackluster performance, resigned for personal reasons, the university said.
Blyth, 48, who has been on an unspecified temporary medical leave since May 23, departs immediately, Harvard Management Co., the school's investment management arm, said in a statement Wednesday. Chief Operating Officer Robert Ettl will remain as interim chief executive officer, and HMC said its board has hired David Barrett Partners to conduct a search for Blyth's replacement.
The departure is a setback for Cambridge, Massachusetts-based Harvard, which has trailed rivals such as Yale University in endowment performance for almost a decade. 
"The key to long-term success at these endowments is a consistent strategy," Verne Sedlacek, a former chief financial officer at HMC, said in an interview.
Bond Trader
A bond trader with a doctorate in statistics from Harvard, Blyth joined HMC in 2006. He rose through the ranks and replaced Jane Mendillo as CEO in January last year.
Blyth, a native of England, unveiled plans to overhaul the organization overseeing the funds as well as the investing philosophy as he sought greater flexibility to increase bets in markets when opportunities appeared. He set a series of goals including generating an investment return above inflation of at least 5 percent on average, beating market indexes, being in the top quartile of peers such as Yale, and maintaining appropriate risk.
During his brief tenure, the endowment trimmed staff and redirected more investments to outside money managers. In June, Michael Ryan, an alumnus of Goldman Sachs Group Inc., departed HMC as head of public markets and absolute return strategies. Almost a dozen portfolio managers and traders have left since May.
"It appears to me that they've decided the Harvard model under Meyer is not adaptable," said executive recruiter Charles Skorina, referring to Jack Meyer, who successfully transformed the endowment into an elite money manager in the 1990s by expanding into new asset classes. "Based on the pruning that's been going on, I suspect they're saying, 'we give up. Our peers are beating us consistently. Why should we fight it?"'
Harvard's endowment produced an annual average investment return of 10.5 percent over the last five years as of June 30, the most recent data available, compared with Yale's 14 percent.
Adviser, Teacher
Rene Canezin, head of public markets and natural resources, and Richard Hall, head of private equity, will continue to co-chair HMC's investment committee in the interim, according to today's statement. Daniel Cummings, head of real estate, will serve as Ettl's vice-chairman on the executive committee.
"The board is deeply grateful for Stephen's many contributions during his distinguished ten-year career at HMC, particularly in his most recent role as president and CEO where he created a more flexible asset allocation framework, a redesigned compensation system, and a collaborative investment decision structure," Paul J. Finnegan, chairman of the HMC board, said in the statement. Blyth will be a senior adviser to the board, Finnegan said.
"Harvard has played such a positive role in my life and, as I look forward to my next chapter," Blyth said in the statement, adding that he plans to return to teaching at Harvard. Blyth is a professor of the practice of statistics at the university, where he teaches quantitative finance.
Before it's here, it's on the Bloomberg Terminal.
LEARN MORE