McDonald's Joins Glaxo in Giving Jobs Boost to Post-Brexit U.K.
by
Burger chain says it will boost British workforce by 5,000

Drugmaker to increase production of respiratory drugs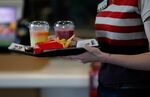 McDonald's Corp. will create more than 5,000 new jobs in the U.K. by the end of 2017, joining GlaxoSmithKline Plc in a vow to bolster British employment following the nation's historic vote to leave the European Union.
The new jobs at McDonald's will add to the 8,000 that the burger chain announced in 2014, bringing the company's British workforce to more than 110,000, Paul Pomroy, chief executive officer of McDonald's U.K., said in a statement Wednesday. Greg Clark, secretary of state for the Department for Business, Energy and Industrial Strategy, called the McDonald's announcement "great news for the U.K. economy."
"The government is committed to ensuring businesses have the support they need to thrive and today's announcement underlines that businesses are confident that the U.K. remains open for business," Clark said in a statement.
The U.S.-based chain has delivered 41 straight quarters of sales growth in the U.K., Pomroy said.
"These remain challenging economic conditions, but I'm pleased that, together with our franchisees, we remain committed to the U.K.," Pomroy said.
Weakening Pound
Glaxo, the U.K.'s biggest drugmaker, which had supported remaining in the bloc, will invest 275 million pounds ($360 million) to increase the capacity to make respiratory and biologic medicines, mostly for export. The spending will be spread across two locations in England and one in Scotland, the London-based company said in a statement Wednesday.
The company is betting on the continued growth of new products, which brought in more than twice as much revenue in the second quarter as they did a year earlier. The drugmaker is also benefiting from the weakening of the British pound following the U.K. vote to leave the EU, with currency effects boosting sales by 7 percent and profit by 26 percent, CEO Andrew Witty said.
"The vote happened, and it's a democracy, and we will make the most of it," Witty said in an interview with Bloomberg Television's Jonathan Ferro. "I am delighted we are able to announce these capital investments today, not because of our view about Brexit, but it shows confidence in our products."
To watch the interview with Glaxo's CEO, click here.
Witty, along with AstraZeneca Plc CEO Pascal Soriot, chairs an industry task force on life sciences set up by the U.K. government that aims to identify opportunities for the sector following the Brexit referendum. The outcome has created uncertainty for pharmaceutical and biotechnology companies, with questions about how an exit from the EU would affect immigration policy, drug regulation, trade agreements and the movement of goods like raw materials.
One attraction for companies is Britain's corporate tax system, which provides a lower rate on profits from U.K.-owned intellectual property, Glaxo said. The country also boasts a skilled workforce and access to technology and key infrastructure, the company said.
Confidence Vote
"An investment of this scale is a clear vote of confidence in Britain and underlines our position as a global business leader," Clark, the U.K. official, said in a separate statement. "GSK's recognition of our skilled workforce, world leading scientific capabilities and competitive tax environment is further proof that there really is no place better in Europe to grow a business."
Glaxo's manufacturing site in Barnard Castle, England, will get a 92 million-pound investment to fund a new sterile facility for biopharmaceutical products, the statement said. The Montrose site in Scotland, which makes active ingredients, will receive 110 million pounds for a new facility to manufacture respiratory drug ingredients. The Ware, England, site will get 74 million pounds to expand inhaler manufacturing capacity.
J Sainsbury Plc also recently pledged to add jobs, saying it would create 900 positions at a new online fulfilment center. And SoftBank Group Corp.'s 24.3-billion-pound deal to buy British chip designer ARM Holdings Plc this month also was seen as a validation of the country's economy.
Before it's here, it's on the Bloomberg Terminal.
LEARN MORE