GIC Warns of Muted Market Returns as Fund Performance Slumps
by and
20-year annualized real rate of return falls to 4 percent

State fund expects low growth, high risk, more uncertainty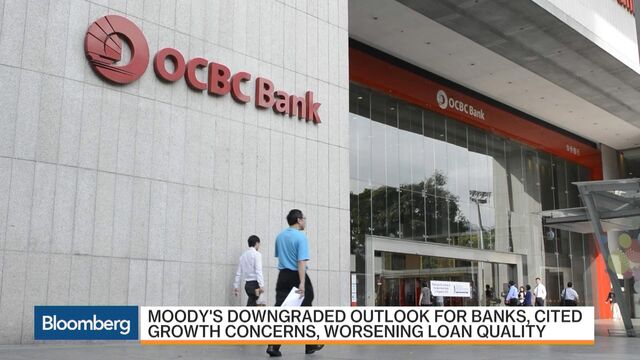 GIC Pte, which manages Singapore's foreign reserves, said its key performance measure declined and warned that record-low interest rates will weigh on investment returns in the coming decade.
The sovereign wealth fund's real rate of return fell to 4 percent in the 20-year period to March 31, from 4.9 percent in the period ended March 2015, as global stock markets posted lackluster performance and bond returns tumbled, according to GIC's annual report Thursday. GIC doesn't disclose annual performance figures.
GIC joins another big Singapore investor in bracing for lower returns as global markets have shown elevated volatility of late and interest rates are languishing near record low levels. Temasek Holdings Pte said at its annual briefing this month that global uncertainties suggest an environment of lower returns. Apart from low yields, modest global growth and inflated valuations for many assets may curb returns for as long as 10 years, according to GIC.
"Our expectation is that going forward, the returns are very likely to be lower because the beginning valuation today is on the high side for most asset classes," Lim Chow Kiat, GIC's deputy group president and group chief investment officer, said in an interview. "We see limited growth, modest growth."
Unlike sovereign wealth funds including those of Norway, China and Korea, GIC doesn't disclose the size of its assets under management, saying only that it manages "well over" $100 billion. The London-based Sovereign Wealth Center puts its total holdings at $343 billion, making it the world's sixth-biggest state fund.

Investment prospects in emerging markets are better this year than in 2015 because some countries have reined in excess credit growth and have seen exchange rate adjustments, Lim said. At the same time, asset prices have declined as foreign capital fled, he said, without being more specific.
The U.S. Standard & Poor's 500 Index was little changed in the 12 months ended March 31 after more than tripling in the six years before. The Bloomberg US Treasury Bond Index returned 2.25 percent, the second-lowest returns in six years.
Brexit Impact
A more uncertain outlook for economic growth is complicating the prospects for returns, GIC said in the report. The International Monetary Fund on July 19 scrapped its forecast for a pickup in global growth this year, citing Britain's vote to leave the European Union, and warned the damage could worsen if confidence falters among investors and companies.
Lim said that GIC believes the long-term prospects for the U.K. are good, even though the nation is faced with the uncertainty of how to redesign the relationship with the EU. GIC will continue to be an investor in the U.K. property market, according to Lim, who pointed to the fund's recent investments in student housing as an example. Businesses that will benefit from the weaker pound would be more attractive than those focused on domestic demand, especially those whose prices have fallen substantially.
"London will remain an important financial center because it has a great ecosystem," Lim said. "The U.K. actually has very strong long-term growth drivers," he said, citing factors including its pro-growth business culture, good governance and favorable demographics.
Reducing Costs
In order to help performance, GIC "will strive harder to reduce portfolio costs," it said.
The fund will continue to invest more in real estate and private equity, where allocations are less than the fund's long-term target, or policy portfolio, Lim said. GIC's real estate holdings accounted for 7 percent and private equity represented 9 percent as of March 31. The plan has a target allocation range of 9 percent to 13 percent for real estate, and 11 percent to 15 percent for private equity.
"Most asset classes are inflicted with a high valuation problem," he said. In the private markets such as real estate, infrastructure and private equity there are more opportunities to add value, Lim said. "We continue to want to emphasize these areas."
The sovereign fund's annualized 20-year nominal return in U.S. dollar terms was 5.7 percent in the period ended March 31.
'More Cautious'
GIC held 26 percent of its assets in developed market equities as of March 31, down from 29 percent in the previous year. Emerging market equities made up 19 percent, up from 18 percent. It held 34 percent of assets in nominal bonds and cash, up from 32 percent. That is higher than the target allocation and reflects GIC's current cautious investment stance, Lim said. 
"We are more cautious than usual," he added. 
GIC had 34 percent of its holdings in the U.S., 20 percent in Asia excluding Japan, 12 percent in the euro area, 11 percent in Japan, and 7 percent in the U.K.
Among the largest investments during its reporting period was the acquisition of a stake in Brazil's biggest hospital chain Rede D'Or Sao Luiz SA for 3.98 billion reais ($1.2 billion). In February, it invested 5.2 trillion Indonesian rupiah ($359 million) in PT Trans Retail, the retail arm of Indonesian billionaire Chairul Tanjung's CT Corp.
The fund was also among buyers when Citic Securities Co., China's biggest brokerage by market value, sold additional shares in June 2015. GIC currently owns a 4.47 percent stake valued at HK$1.7 billion ($219 million), according to data compiled by Bloomberg.
GIC manages a mix of government surpluses and inflows from the Central Provident Fund, a government savings plan that provides retirement income for Singaporeans. The government issues bonds to the manager of the pension funds, and invests the proceeds through GIC and the central bank.
Before it's here, it's on the Bloomberg Terminal.
LEARN MORE