technology
Facebook Revenue, Users Top Estimates as Mobile Ads Surge
By
Sales climb 59%, with mobile bringing in 84% of ad revenue

'Instagram is making a real contribution,' COO Sandberg says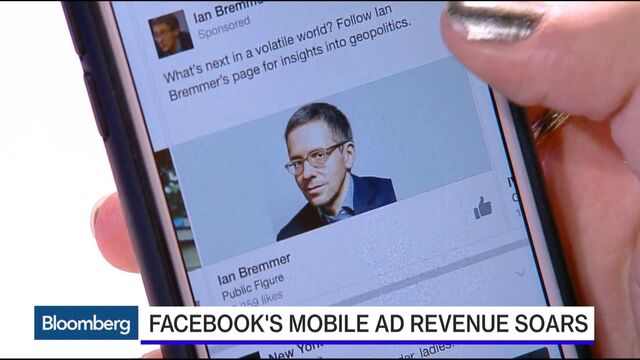 Facebook Inc. shares jumped after the company reported second-quarter revenue that beat analysts' projections, lifted by surging sales of video and Instagram ads and a boost in users.
Key Points
Second-quarter sales climbed 59 percent to $6.44 billion, compared with the $6.01 billion average estimate of analysts surveyed by Bloomberg.

Profit, excluding some items, was 97 cents a share, the Menlo Park, California-based company said Wednesday in a statement. Analysts had predicted 82 cents on average.
Facebook now has 1.71 billion monthly users, up from 1.65 billion in the prior quarter. Analysts had estimated 1.69 billion. Daily users rose to 1.13 billion.
The company now makes 84 percent of its advertising revenue from mobile.
Facebook shares rose as mush as 4.1 percent on Thursday and were up 3.6 percent at 10:03 a.m. in New York to $127.76. The stock has climbed 22 percent so far this year.
The Big Picture
Facebook's vigorous growth in mobile advertising is being fueled by video spots and expanded ads on its photo-sharing app, Instagram. Those sales gains have given the company freedom to take its time turning other products into revenue-generating businesses. The company has morphed from the operator of the world's largest social network to the owner of a portfolio of popular mobile applications including Facebook, WhatsApp, Messenger and Instagram. All of them have more than a billion users, except Instagram, which has half a billion. Facebook hasn't yet attempted to make money from Messenger or WhatsApp, indicating that the company's share of the mobile advertising market could grow larger still.
The constant stream of revenue also allows Chief Executive Officer Mark Zuckerberg to ramp up his investment in more futuristic initiatives, such as virtual reality and connecting the world to the Internet -- steps that are unlikely to bring in profit for many years.
To cement his ability to spend on longer-term projects, Zuckerberg recently changed Facebook's share structure to give him majority voting control over the company, even if he sells some of this stock.
Meanwhile, the main Facebook product will continue to evolve. Zuckerberg said he wants Facebook to be a "video-first" company -- and the news feed is likely to be mostly video in a few years. That will require building out infrastructure and improving tools for people to record and share video, he said.
COO Interview
Chief Operating Officer Sheryl Sandberg said Facebook won't break out Instagram revenue yet, but "Instagram is making a real contribution."
Facebook has started doing small tests with businesses making money from conversations on Messenger, but it's not yet time to monetize the app, Sandberg said via phone. "Our focus right now is overwhelmingly on the consumer experience."
"We're really looking at the organic activity that's happening between businesses and consumers," she said, noting that 1 billion messages of that nature are being sent per month on Messenger.
In video, Facebook isn't interested in the television-like content Twitter is streaming. "We're much more interested in short-form content," Sandberg said. "Right now we're in the really early stages of working with publishers and content producers to create content for our platform."
Live video is "contributing to our time-spent metrics," but not to Facebook's revenue yet, she said.
The Details
Facebook's monthly active users on mobile rose to 1.57 billion, 20 percent more than in the year-earlier period.
Second-quarter net income jumped to $2.06 billion, or 71 cents a share, from $719 million, or 25 cents.
The company said it had $23.3 billion in cash and equivalents at the end of the recent quarter. Capital spending rose to $995 million from $549 million a year ago.
More than 2 billion searches are done on Facebook each day, though the company isn't ready to make money from the feature yet, Zuckerberg said on a conference call.
Facebook said revenue growth rates will be slower in the coming quarters, especially as the comparisons from year-earlier periods get tougher.


(
Updates with Thursday's trading.
)
Before it's here, it's on the Bloomberg Terminal.
LEARN MORE