U.S. Capital Goods Orders Rise for First Time in Three Months
by
Bookings for all durable goods drop by most since August 2014

Shipments of capital equipment, durable goods inventories fall
Orders for business equipment rose in June for the first time in three months, eking out a small gain that shows companies are in no rush to significantly ramp up investment, according to a report Wednesday from the Commerce Department.
Key Points
Orders for non-military capital goods excluding aircraft, a proxy for future business investment, rose 0.2 percent after falling 0.5 percent in May
Shipments of such business equipment, used in calculating gross domestic product, dropped 0.4 percent after a 0.5 percent decrease

Total bookings for durable goods -- those meant to last at least three years -- slumped 4 percent (forecast was for 1.4 percent drop), most since August 2014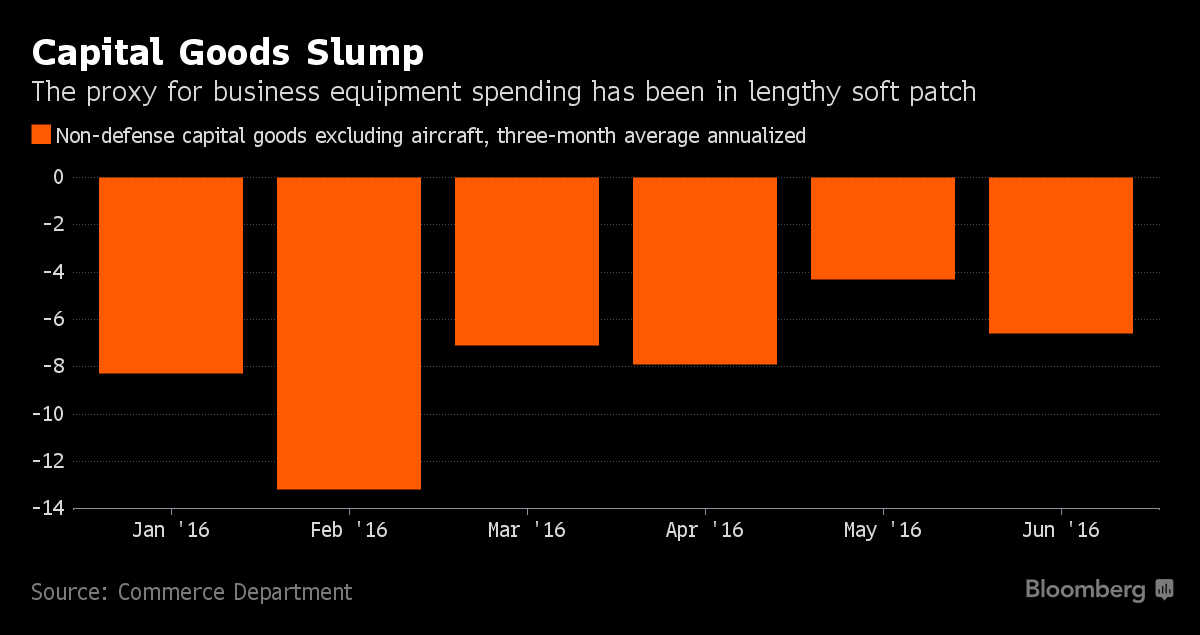 Big Picture
While demand for business investment stabilized, bigger gains will be needed to jump-start an economy that's been dependent on consumers. Signs of more stability in overseas markets would go a long way in helping to convince companies that demand remains healthy enough to justify more equipment spending. What's more, inventories of durable goods fell for a sixth straight month, which may prompt some economists to lower their second-quarter growth forecasts.
Economist Takeaways
"This report doesn't provide any indication that the weak tone is likely to turn the corner anytime soon," said Millan Mulraine, deputy head of U.S. research and strategy for TD Securities USA LLC in New York and the best forecaster of the business equipment proxy over the past two years, according to Bloomberg. A significant pickup is also unlikely in the coming months, "particularly as the uncertainty surrounding the fallout from the Brexit vote dampens business investment activity."



"Decision-makers are reluctant to spend on equipment," Kevin Cummins, an economist at RBS Securities Inc. in Stamford, Connecticut, said before the report. "That's certainly one thing that has remained pretty weak and lackluster throughout the recovery."



The Details
Excluding transportation equipment, which is often volatile, orders decreased 0.5 percent after a 0.4 percent decline
Excluding defense equipment, new orders dropped 3.9 percent after falling 1.6 percent the prior month

Unfilled orders for non-defense capital goods equipment excluding aircraft fell 0.2 percent after a 0.4 percent decrease

Inventories of durable goods decreased 0.2 percent in June and at a 3.5 percent annualized rate over the three-month period
Before it's here, it's on the Bloomberg Terminal.
LEARN MORE