Eastern Europe Spawns Another Viral Hit With Prisma Photo App
by
Russian app shares investors with Belarus native MSQRD

Co-founder 's Silicon Valley tour included a stop at Facebook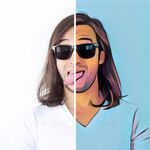 The former Soviet Union is proving to be a productive source of photo and video apps that go viral.
The latest is Prisma. The smartphone app can transform your photos -- even lousy ones -- into something resembling a work of art, stylized as an impressionist or pop-art painting. It's been downloaded about 16.5 million times since release last month on Apple Inc. devices, with the pace surging to 2 million a day after its debut for Android phones this week, according to Prisma Labs Inc., the Russian startup behind it.
Prisma counts Russian politicians and Bollywood stars among fans posting pictures to their Instagram accounts. The trajectory resembles that of an app created by the startup's neighbors in Belarus. MSQRD, which lets users superimpose the faces of celebrities or animals over their own in selfie videos, shot into the App Store charts in December and was acquired by Facebook Inc. in March. MSQRD and Prisma also share two backers: Yuri Gurski, a vice president at Mail.Ru Group Ltd., and Gagarin Capital. Mail.Ru has a minority stake in Prisma.
With its fan base spreading -- Prisma was in the top 10 on the App Store in 77 countries on Monday, according to research firm App Annie -- co-founder Alexey Moiseenkov took a trip this month to Silicon Valley, where he promoted the company. Facebook's headquarters was one stop on that tour, prompting speculation by tech blogs that the app could be an acquisition target. Moiseenkov declined to comment on the meeting.
Like MSQRD, Prisma uses complex computer processing to produce its artsy visuals. Unlike Instagram, it doesn't apply a filter. Rather, it "paints" the images in a particular style, such as in Edvard Munch's famous "The Scream" or like the work of Russian abstractionist Wassily Kandinsky. Prisma said users have processed about 650 million photos.
The fundamental technology underpinning Prisma is based on research published last year by German academics. The approach uses a neural network, which is the basis for many artificial intelligence systems, to analyze an image's visual characteristics and apply those artistic flourishes to another image. Gurski, an adviser to Prisma, said the startup has developed technology to make this process more efficient and fast, allowing the company to scale it to "millions and dozens of millions of users."
Prisma is working on a tool that will be able to apply similar effects to short video clips, Moiseenkov said. While the technology is ready now, he said the company must update its computing infrastructure to support the complexities of video. He expects to roll out the video feature sometime in the next several weeks.
While Prisma offers about 30 image styles for free, the nine-person company has begun experimenting with ways to make money. Companies can pay to sponsor a filter and get their brand in front of early adopters. Colgate-Palmolive Co. sponsored impressionism, seeking to boost shower gel sales, and car-booking startup Gett sponsored the urban filter. Moiseenkov said advertisers like that it's "more personal" than traditional ads on social networks.
Before it's here, it's on the Bloomberg Terminal.
LEARN MORE