China Stocks Tumble on Report of Wealth Management Product Curbs
Bloomberg News
Regulators have been increasing scrutiny of investment flows

Authorities want to lower use of leverage, Hengsheng says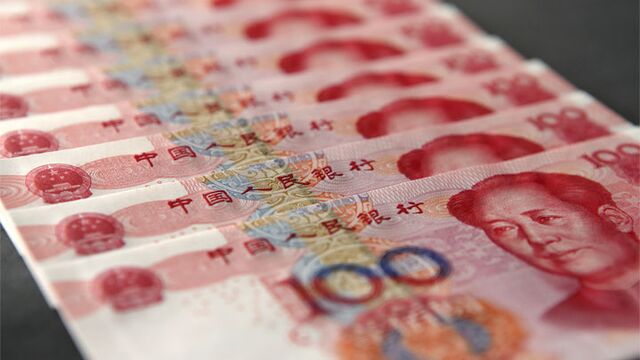 Chinese stocks slumped the most in six weeks as a report about possible curbs on wealth management products added to concern that regulatory efforts to reduce risks in the financial system will limit flows into equities.
The ChiNext Index of small-company shares sank 5.5 percent, the most since June 13, while the Shanghai Composite Index fell 1.9 percent. The Shenzhen Composite Index lost 4.5 percent.

China's banking regulator is considering tightening curbs on the nation's $3.6 trillion market for WMPs, the 21st Century Business Herald reported, citing people it didn't identify. Authorities may set a limit on how much WMPs can invest in equities and "non-standard assets" such as loans, the report said.
"There's an obvious trend that the regulators want to strengthen market monitoring and lower the use of leverage in financial markets to control risks," said Dai Ming, a fund manager at Hengsheng Asset Management Co. "Under such circumstances, ChiNext is especially vulnerable, given its high valuations and the recent gains."
The China Banking Regulatory Commission met with some lenders this month on the rule revision and a final version hasn't been drafted, the 21st Century Business Herald report said. The CBRC didn't immediately reply to a fax seeking comment.
Closer Attention
China's watchdogs have signaled they're paying closer attention to the fund managers and brokerages who funnel the nation's household savings into investments from stocks to bonds and derivatives. The China Securities Regulatory Commission this month issued guidelines curbing the use of leverage by structured asset management plans.
Li Chao, vice chairman of the regulator, told a gathering of firms in the northeastern city of Harbin last week to do better due diligence on prospective clients when arranging initial public offerings, secondary share sales and bond issues, people familiar with the matter said.
The outstanding value of WMPs rose to 23.5 trillion yuan ($3.5 trillion), or 35 percent of China's gross domestic product, at the end of 2015 from 7.1 trillion yuan three years earlier, according to the China Central Depository & Clearing Co.
For a Gadfly commentary on banks' exposure to WMPs, click here.
"The government thinks tighter regulation is needed because investments from WMPs helped fuel the stocks bubble last year and then contributed to the crash," said Larry Hu, head of China economics at Macquarie Securities Ltd. in Hong Kong. "Some of them are just like black boxes, and neither the government nor the investors know for sure which products the banks invest the money in."
The ChiNext Index jumped 21 percent from its Feb. 29 low through Tuesday's close. The Shanghai Composite and the Shenzhen Composite are both down more than 15 percent this year.
Trading volumes in Shanghai were 53 percent higher than the 30-day average, while in Shenzhen, they were at 31 percent. The ChiNext index trades at more than 31 times its projected 12-month earnings, compared with 12.8 times for the Shanghai Composite.
'Drastic Reaction'
"It's hard to see an immediate impact on the markets from the rule," said Wei Hou, a Hong Kong-based analyst at Sanford C. Bernstein & Co. "This type of drastic reaction is a bit excessive. The market may have needed some correction as valuation remains stretched if you look at the fundamentals. It could be just one of the excuses for funds to exit the market now."
The Shenzhen Stock Exchange will demand better disclosure and curb speculation in stocks with "hot topics" such as virtual reality and artificial intelligence, according to a report in the Securities Daily.
"The market is reacting to news of rules on wealth management products," said Hao Hong, chief strategist at Bocom International Holdings Co. in Hong Kong. "Banking regulators plan to limit the use of funds raised through such products. The measures are aimed at reducing risks at banks."
The Hang Seng China Enterprises Index rose 0.6 percent to close at a three-month high in Hong Kong after dropping as much as 0.8 percent. The benchmark Hang Seng Index climbed 0.4 percent.
— With assistance by Kyoungwha Kim, Kana Nishizawa, and Fox Hu
Before it's here, it's on the Bloomberg Terminal.
LEARN MORE