AIA First-Half Operating Profit Rises 9% on Hong Kong, China
by
New business value climbs 31% versus analyst estimate of 30%

Net profit drops 6% on paper losses on stocks, currencies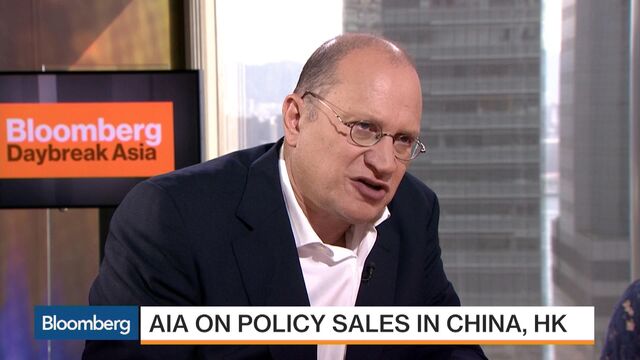 AIA Group Ltd., the third-largest Asia-based insurer by market value, said operating profit rose 9 percent in the first half, as business growth in Hong Kong and China helped to offset weaker stock markets and regional currencies.
After-tax operating profit climbed to $1.96 billion in the six months to May 31, from $1.8 billion a year earlier, the Hong Kong-based insurer said in a statement to the city's stock exchange Thursday. Net profit, which includes paper losses on stock investments, declined 6 percent to $2.1 billion, or 17.2 cents per share, beating the $1.64 billion average estimate of five analysts, according to data compiled by Bloomberg. The shares slipped 0.3 percent to HK$49.50 at 9:46 a.m.
"The region itself remains the sweet spot of the insurance world and remains the most attractive and dynamic region for life insurance today," said Mark Tucker, chief executive officer of the insurer that operates in 18 markets across Asia, during a call with journalists Thursday, citing rising income, urbanization and low insurance ownership.
Chinese regulators tightened control over its citizens' purchases of insurance policies in Hong Kong in a bid to curb capital outflows as economic growth slowed and the currency depreciated. Stocks in the markets AIA operates in retreated on average 2.1 percent from the previous six months, and their currencies also fell from a year earlier, Credit Suisse Group AG analyst Charles Zhou wrote in a June 30 note.
Currency Fluctuations
Operating profit would have grown 14 percent without currency fluctuations for the insurer, which collects premium in local currencies while reporting financial results in dollars. New business value, a profitability measure of new policies which Tucker has adopted as the main performance gauge, would have increased 37 percent.
Here are some key numbers from the results:
New business value jumped 31 percent to $1.3 billion, higher than the 30 percent growth median estimate of eight analysts surveyed by Bloomberg. 
In China, AIA's new business value rose 49 percent in the six months and operating profit increased 16 percent, solidifying its position as the insurer's second-biggest market by new business value.
Operating profit rose 15 percent in Hong Kong, its largest market. New business value jumped 60 percent in the city.
Overall annualized new premium grew 25 percent to $2.4 billion. New business margin, the value of new business as a percentage of annualized new premiums, expanded 2.5 percentage points to 52.7 percent.
The company declared an interim dividend of 21.9 Hong Kong cents per share, a 17 percent increase from a year earlier.



AIA shares advanced 6.6 percent in Hong Kong this year through Wednesday, recouping ground lost in February when the Chinese curbs came to light. That compares with a 6.6 percent retreat in the period in the Hang Seng Finance Index, which includes banks and insurers.
Policy sales by AIA's Hong Kong unit to offshore clients, believed to consist mainly of Chinese visitors, surged 136 percent between January and March from a year earlier, even after China tightened payment restrictions for such purchases, Jefferies Group analyst Baron Nie wrote in a July 19 note, citing data from the city's insurance regulator.
About half of sales by AIA's Hong Kong unit, measured by annualized new premiums, came from Chinese visitors, Tucker said during the call with reporters. While it represents an increase over last year, it reflected the overall trend in the Hong Kong market, he added, without disclosing specifics.
"This segment has been growing consistently over the last decade," Tucker said in response to a question on the sustainability of the increase. Chinese visitors account for less than 10 percent of the unit's existing policies, he added, highlighting the potential for further growth.
Before it's here, it's on the Bloomberg Terminal.
LEARN MORE