U.S. ELECTION WRAP: Bank Breakups Seen as Political Pipe Dream
Democrats adopt progressive Wall Street regulation agenda as party struggles to unify at convention in Philadelphia
By and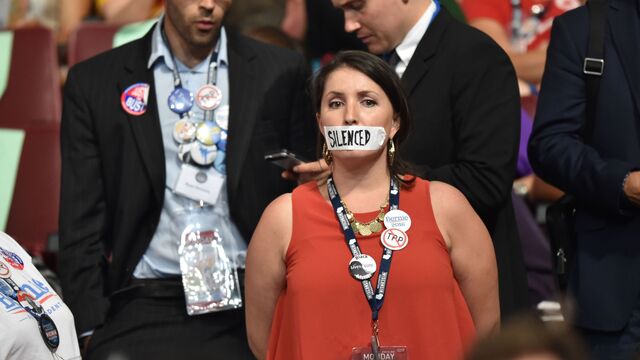 Bernie Sanders may have won his fight with Hillary Clinton over support for a new Glass-Steagall banking law when it comes to the Democratic agenda, but that victory is unlikely to become a legal reality anytime soon, Bloomberg Intelligence analysts Nathan Dean and Ben Elliott say.
Democratic National Convention delegates in Philadelphia yesterday adopted what Sanders calls the party's most "progressive" platform ever; it supports a possible updated version of the 1933 Glass-Steagall Act, which separated commercial and investment banking and was repealed under Bill Clinton
The former president, who speaks tonight to a convention that remains divided over his wife's nomination, has said there's no evidence the 1999 repeal led to the later economic crisis; Hillary Clinton last year issued a Wall Street-reform plan that eschewed a return to the Depression-era law, arguing that her approach would be more effective

"Many elements of the Democratic Party platform are beyond what Clinton has called for in her financial regulation plan, which essentially builds upon" the 2010 Dodd-Frank Wall Street regulation law and President Obama's policies, Dean said.
"Clinton, who has historically taken a moderate view on banking, likely prefers to continue this trend rather than drastically change the financial system with a return to Glass-Steagall": Dean
Even if Democrats win back the Senate in November, it's "highly unlikely" for them to gain enough seats for a veto-proof majority that would pave the way for passage of a new Glass-Steagall measure, Dean said

Republicans, spurred by Donald Trump's forces, may have taken a page from Sanders' playbook when they added to their platform a call for breaking up the biggest banks by reinstating Glass- Steagall (See July 19 story by Bloomberg's Elizabeth Dexheimer), but such a measure has scant GOP support in Congress

An exception is Senator John McCain, who is co-sponsoring a bill with Democratic Sen. Elizabeth Warren to create a modern Glass-Steagall law; he's the sole Republican backing the legislation
"The large global banks have enough friends among both moderate Republicans and Democrats to oppose a return of Glass-Steagall," Dean said

Other Wall Street regulation proposals on the "liberal Democratic wish list," such as toughening Dodd-Frank and a financial-transaction tax, "aren't feasible under a Republican-controlled Congress," Dean and Elliott wrote in their note

Click here to get the U.S. Election Wrap by e-mail every afternoon

PHILADELPHIA DAY 2
Democrats face another unity test today as the state roll call is taken to officially deliver Clinton's nomination, and when Bill Clinton addresses the hall tonight, Bloomberg's Margaret Talev and Mark Niquette wrote in a piece looking at Sanders' arduous attempt to rally his backers behind Clinton
Bloomberg's Derek Wallbank breaks down the convention on Facebook Live with Tommy Burr of the Salt Lake Tribune; see the video here
The "Feel the Bern" contingent got directly called out from the podium last night by comedian Sarah Silverman, who backed Sanders in the primary and now says she will "proudly" vote for Clinton

In an unscripted moment, Silverman told the "Bernie or Bust" people they were being "ridiculous," a comment that earned her some catcalls; see video of her comments here

Sanders today said he's hopeful, in spite of lingering emotions from the primary fight, his supporters will eventually "accept the reality" of Clinton as the Democratic nominee, Bloomberg's Arit John reported
Democratic Senator Barbara Mikulski of Maryland, the first woman in either the House or Senate to chair an Appropriations committee, nominated Clinton

Representative John Lewis of Georgia and New Y0rk delegate Na'ilah Amaru, a public policy consultant who is an immigrant and an Iraq combat veteran, seconded the nomination
Amaru won a Clinton campaign online contest to do so

In a speaker lineup last night that included Senators Cory Booker and Elizabeth Warren and Sanders himself, first lady Michelle Obama had the most well received address, Bloomberg's Mark Niquette and Margaret Talev reported

Obama's endorsement of Clinton, her comment on living in a White House "built by slaves," and not-so-veiled jab about Donald Trump's tweeting habits were the top three most mentioned convention comments on Twitter, according to the social media site
She never mentioned Trump by name, yet her references to the billionaire GOP nominee were clear
"I want someone with the proven strength to persevere, someone who knows this job and takes it seriously, someone who understands that the issues a president faces are not black and white and cannot be boiled down to 140 characters," she said
See speech here

The Nation's Joan Walsh wrote that the first lady brought "healing" to the fractious convention
Pew Research Center said Clinton led Sanders for the Democratic nomination in every one of its surveys throughout the party's primaries, though Democratic voters vacillated in their candidate support throughout this period 

Today, "overwhelming shares of all Democratic and Democratic-leaning registered voters—including 90% who consistently supported Sanders for the nomination—back Clinton in the general election" against Trump, according to the center 




TWITTER LIGHTS UP
Across the country, Democrats paid more attention to the last night of the Republican convention than the first night of their party's gathering, according to Drew Margolin, a professor of communication at Cornell University who studies human dynamics through social media

Margolin has been tracking how voters react to presidential candidates on Twitter since the start of the primaries
On the convention's opening evening, Clinton didn't "draw much in the way of positive sentiment," he said in a statement. "She did not draw negative sentiment, but there was not a clear positive tendency."

REPUBLICANS IN PHILLY
As Democratic leaders try to quell the Sanders-related discord, Republicans have taken up residence at a boxing and wrestling arena in Philadelphia, Bloomberg's Erik Wasson reported

Republican National Committee spokesman Sean Spicer told reporters that RNC's mobile billboard truck emblazoned with its "Enough" slogan drew a "bunch of cheers from Bernie guys"
The Democratic discord gives the GOP more hope they can win over the independent Vermont senator's primary voters in the fall, Spicer said
"The people in the street are saying 'Never Hillary,'" he said. "This is not rhetoric. This is an ideological divide in the Democratic party"

National Review's Rich Lowry today scoffed at Democrats for attempting again to show Americans the "real" Clinton

"Hillary has made more reintroductions than should be allowed for a person who has never gone away," Lowry wrote

RUSSIAN INTRIGUE 
While Russia has been effectively spying on the U.S. since at least World War II, the possibility that America's former Cold War enemy is meddling in its election process raises a whole new set of questions about U.S.-Russian relations

Bloomberg's Angela Greiling Keane and Nafeesa Syeed examine the matter; read story here

Clinton campaign chairman John Podesta told a Bloomberg Politics breakfast in Philadelphia that Russian interference in a U.S. election would be "unprecedented"

ON THE TRAIL
Trump, speaking today in North Carolina to the Veterans of Foreign Wars national convention, criticized the Democratic convention's first night for not discussing the threat of Islamic State terrorists

"They don't want to talk about it," Trump said; Democratic "weakness" led to the establishment of the terror group: Trump

The GOP nominee also reiterated his call to suspend refugees from Syria and other "dangerous" nations so terrorists that American soldiers are fighting overseas don't gain entry into the U.S.

CONGRESSIONAL RACES
SENATE STRATEGY: Democrats plan to continue push for gun legislation through the Nov. election, with goal of boosting party candidates who will back gun-control measures, Democratic Sen. Chris Murphy of Conn. says
"Our problem is lack of numbers in the Senate", he said after speaking to his home state's convention delegates today in Philadelphia 
AK-SEN: GOP Sen. Lisa Murkowski won the endorsement of the U.S. Chamber of Commerce for "consistently promoting policies to boost prosperity and spur job creation," including overcoming federal opposition to developing "the state's vast oil and natural gas, coal, timber and mineral resources," according to statement from her campaign
AZ-SEN: Sen. John McCain has a new ad juxtaposing images of Democratic Rep. Ann Kirkpatrick, his likely challenger in Nov., with FBI Director James Comey chastising Hillary Clinton over her e-mail use

Ad features Kirkpatrick saying she supports Clinton

CT-SEN: Democratic Sen. Dick Blumenthal has new 60-second TV ad featuring Conn. resident Joanna Eldridge saying she lost her husband, a military veteran, to suicide after battle with PTSD, "but because of Sen. Blumenthal, so many others that are struggling can get help"
FL-SEN: Progressive Change Campaign Cmte and Democracy for America released joint statement formally withdrawing their endorsement of Democratic Rep. Alan Grayson after "today's revelations of years of police reports about allegations of domestic abuse" by him of his then-wife

Statement refers to allegations reported today in Politico 
"Unfortunately, this deeply disappointing revelation means progressives have no great options in the Florida race or Senate"
Politico posted video today of reporter trying to question Grayson about allegations and tense conversation between the two, with Grayson saying he'd hand the video over to Capitol Police "for getting in my face and being a fool and pushing me as I was leaving"
White House backs Democratic Rep. Patrick Murphy in Aug. 30 primary

OH-SEN: Ohio Teamsters and the Fraternal Order of Police of Ohio are endorsing Republican Sen. Rob Portman over his Democratic opponent, former Gov. Ted Strickland

FOP endorsed Strickland for governor in 2006 and 2010, and Portman for Senate in 2010, The Hill reported
United Mine Workers of America also endorsed Portman in June
Strickland has earned endorsement of United Auto Workers, AFL-CIO and AFSCME, Springfield News-Sun reported

PA-SEN: National Republican Senatorial Committee has new video that starts with Clinton's anti-Trump ad that says "our children our watching," and then features recorded clip of Democratic candidate Katie McGinty saying Republican Sen. Pat Toomey is "an a**hole, dammit," interspersed with images of children watching TV
TX-SEN: GOP Sen. Ted Cruz e-mailed fundraising appeal for his 2018 Senate race after Democratic Rep. Joaquín Castro told CBS News he wouldn't rule out seeking seat

"Despite any record of achievement and a liberal ideology out of touch with the majority of Texans" Castro and his twin brother, HUD Sec. Julian, "have the full support of the mainstream media and Washington establishment willing to do everything in their power to turn Texas blue"

FL-10: Democrat Bob Poe has TV ad accusing primary opponent Val Demings, Orlando's first woman to be chief of police, of overseeing and doing "nothing" about police brutality in Orlando during her tenure as law enforcement head
Demings has a new ad talking of her childhood as the daughter of a janitor and a maid, and of her eventual career in law enforcement
Incumbent GOP Rep. Dan Webster is running in adjacent district now held by retiring Republican Richard Nugent after redistricting made FL-10 strongly Democratic
FL-18: Conservative Congress Now group has TV ad backing pediatric nurse Rebecca Negron in crowded GOP primary for race to fill seat Democrat Patrick Murphy is giving up to run for Senate
Race rated "pure toss-up" by Rothenberg & Gonzales Political report
IN-04,IN-05: Ind.'s Republican leaders in private meeting chose Lt. Gov. Eric Holcomb to succeed Mike Pence as GOP candidate for state's governor, ending efforts by Reps. Todd Rokita and Susan Brooks to secure nomination
Rokita and Brooks withdrew from their congressional re-election contests to run for governor, but now plan to again seek to hold onto their seats
WI-01: House Speaker Paul Ryan has new TV ad featuring retiree in his district saying lawmaker is "a unifying leader," "somebody I know, somebody I trust" and "that's the guy I want to vote for"

Ryan opposed in GOP primary by businessman Paul Nehlen
Before it's here, it's on the Bloomberg Terminal.
LEARN MORE