U.K. Labour's Smith Makes Patriotic Pitch for Party Leadership
by
Opposition must find 'sense of national mission,' he'll say

Challenge to Corbyn comes with Labour trailing Tories in polls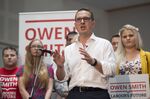 Owen Smith will pledge a "national mission for Britain" on Wednesday as he lays out a patriotic case for equality that he hopes will help propel him to the leadership of the main opposition Labour Party.
Smith, who is challenging the incumbent, Jeremy Corbyn, for the top job, will tell a rally in Orgreave, northern England, that he would set up a Ministry of Labour to improve and protect workers' rights, pay and conditions if he becomes prime minister.
"We need to rediscover a sense of national mission for Britain," Smith will say, according to extracts released by his office. "A faith in our country as having a future as bright as its past and one where the fruits of our collective success are shared more equally between us."
While committing himself to one of the mainstays of Labour ideology, Smith is seeking to attract party members who see Corbyn's lack of patriotism as out of step with mainstream voters and an electoral liability. Corbyn, who has lost the confidence of most of Labour's members of Parliament, was criticized last year after he refused to sing the national anthem at a commemoration of those who died in World War II.
At the same time, the location of Smith's speech is redolent with the history of the U.K. labor movement: Orgreave was the site of a violent confrontation between police and coalminers during a 1984 strike.
The scale of the challenge facing Labour was demonstrated on Tuesday when an ICM poll showed the party trailing Prime Minister Theresa May's Conservatives by 16 points, with the Tories on 43 percent and Labour on 27 percent, a level not seen in a comparable survey by the company since 2009. The poll of 2,012 adults was carried out online July 22 to July 24.
'New Deal'
Smith will promise a "British New Deal" to counter the austerity policies of May's government and seek to counter inequality through "investment, not cuts."
"The Labour Party has achieved so much for social justice, but we need to be more than just our history," Smith will say. "In the next few weeks I'll be setting out my vision for Labour's future, a future of fair taxes, fair employment and fair funding."
Before it's here, it's on the Bloomberg Terminal.
LEARN MORE