Trump Seizes on Democratic Convention Discord
The Republican nominee reveled in the troubles on display at the Democratic National Convention.
By and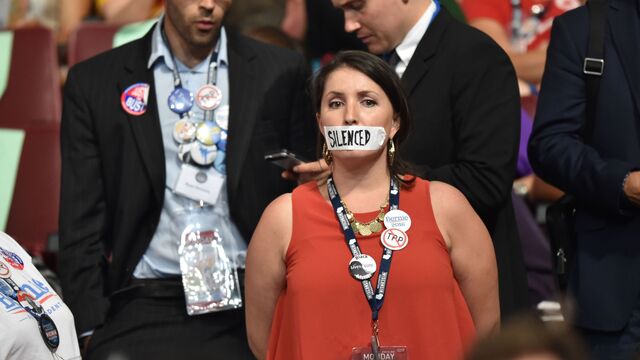 As Democrats waged an intraparty political war on the first day of their national convention in Philadelphia on Monday, it was clear Republican presidential nominee Donald Trump was relishing the drama.
"It's quite exciting to watch," Trump said at an evening campaign rally in North Carolina. "Quite exciting."
Discord between Hillary Clinton and Bernie Sanders' supporters broke out on the first day of the Democratic convention as some of the losing senator's loyalists disrupted early speeches, booing nearly every mention of Clinton's name, and marched in protest outside the arena.
Trump highlighted the acrimony in an attempt to lure Sanders' voters, repeatedly drawing attention to the recent release of hacked Democratic National Committee e-mails that showed evidence of favoritism toward Clinton during the party's nominating contest.
"Hillary Clinton knew what was going on," Trump said during an event in Virginia, without offering any evidence for his claim. "She knew everything that was going on. She knew it's a rigged system, that Bernie Sanders never had a chance."
The campaign circulated an article by ABC News about the "four most damaging" messages released in the DNC hacking.
"How much BAD JUDGEMENT was on display by the people in DNC in writing those really dumb e-mails, using even religion, against Bernie!" Trump said on Twitter.
On the campaign trail, Trump touted fresh polls showing him gaining ground. A CNN/ORC poll conducted after last week's Republican convention and released Monday had him beating Clinton 44 percent to 39 percent—a 6-point bounce that the campaign dubbed the "Trump Bump."
"We had, I believe, the largest bump in the history of conventions," Trump said during his Winston-Salem, North Carolina, rally, his second joint rally with running mate Mike Pence since their nominations last week.
Trump at that event stressed the idea of using the best and brightest to help the country.
"It's policy where we have incompetent people negotiating the biggest deals in the world. Bigger than companies. Bigger than anything," Trump said. "And we have political hacks doing our negotiating instead of using our grand masters. And we have grand masters that are better than anybody in the world. And nobody ever calls them."
After the ouster of DNC Chairwoman Debbie Wasserman Schultz at the beginning of the Democrats' convention, Trump and his team throughout the day tried to keep the story front and center, talking about the Democrats' "total mess."
After his jet landed in Charlotte late Monday, Trump again took to Twitter, bashing the Democrats on stage at their convention and accusing Sanders of abandoning his revolution.
Democratic strategist David Axelrod noted Trump's close attention to Philadelphia.
"First time in history, it appears that a major party candidate will be live-tweeting the other party's convention!" Axelrod said on Twitter.
Trump digital director Brad Parscale texted supporters to say that Trump "asked me to keep you in the know on what happens at the DNC. If you'd like to receive updates, reply NEWS."
After the Republican National Convention saw its own share of disarray, including a speech by the candidate's wife that borrowed lines from one given by Michelle Obama, as well as Texas Senator Ted Cruz's refusal to endorse Trump during a prime-time address, many in the party were left giddy by the spectacle of feuding Democrats.
Republican strategist Chris LaCivita, who was a delegate whip at his party's Cleveland convention, said the Democrats "have a lot more than the 50 troublemakers we had. These people are p---ed."
Predictions of protests and infighting in Cleveland were exaggerated, he said.
"There was so much build-up for acrimony and it didn't materialize—it didn't materialize in the rules committee, it didn't materialize on the floor," LaCivita said.
To try to lure expand Trump's coalition to include more millennials, the main super-PAC supporting Trump, Rebuilding America Now, is releasing a digital ad with a six-figure buy in states like Wisconsin, Nevada, and New Hampshire, organizers said.
Jason Miller, the Trump campaign's senior communications adviser, said, "The only ones surprised by the Trump Bump are those in the media and Hillary Clinton donors who have spent hundreds of millions of dollars attacking Mr. Trump with no measurable improvement for their side."
Before it's here, it's on the Bloomberg Terminal.
LEARN MORE