business
Violence in South Sudan Turns to Fight Over Vice Presidency
By
President replaces Riek Machar after he didn't return to Juba

Move seen having impact on deal to end 2 1/2-year civil war
South Sudanese leader Salva Kiir replaced his long-time rival Vice President Riek Machar after the former rebel chief didn't return to the government following violence in the capital earlier this month that claimed hundreds of lives.
Mining Minister Taban Deng Gai has taken over the position, Information Minister Michael Makuei Lueth said Tuesday by phone from the capital, Juba. Finance Minister David Deng Athorbei was also replaced by Stephen Dhieu Dau, a former trade minister, in what Lueth called a "normal change." A Machar representative in neighboring Kenya has described moves to remove him as "illegal."
Replacing Machar will impact "negatively on the recently formed government, as well as the security of the nation," Augustino Ting Mayai, a research director at the Sudd Institute, a Juba-based group, said earlier this week. "Basically, without Riek little stability may be realized in South Sudan."
Conflict in the oil-producing country has left tens of thousands of people dead and forced more than 2 million to flee their homes. The main rebel group, which is loyal to Machar, returned to Juba in April and joined a transitional government that seeks to reform the economy and security forces before elections in about 30 months.
Agreement Shaken
The peace agreement had already been shaken earlier this month by a renewed bout of fighting in Juba between forces loyal to the two men, which left at least 270 people dead and sent Machar into hiding. South Sudan, which has sub-Saharan Africa's third-biggest crude reserves, says it's producing as little as 120,000 barrels a day because of the war. The oil, pumped by China National Petroleum Corp., Malaysia's Petroliam Nasional Bhd and India's Oil & Natural Gas Corp., is exported via a pipeline through neighboring Sudan.
Machar's replacement was approved by a delegation of the armed opposition in Juba, which says it has lost contact with him since the latest violence. James Gatdet Dak, a Machar representative who won't comment on the former insurgent's location, said he will return once a regional force is deployed to keep the peace in the capital, a step rejected by the Defense Ministry.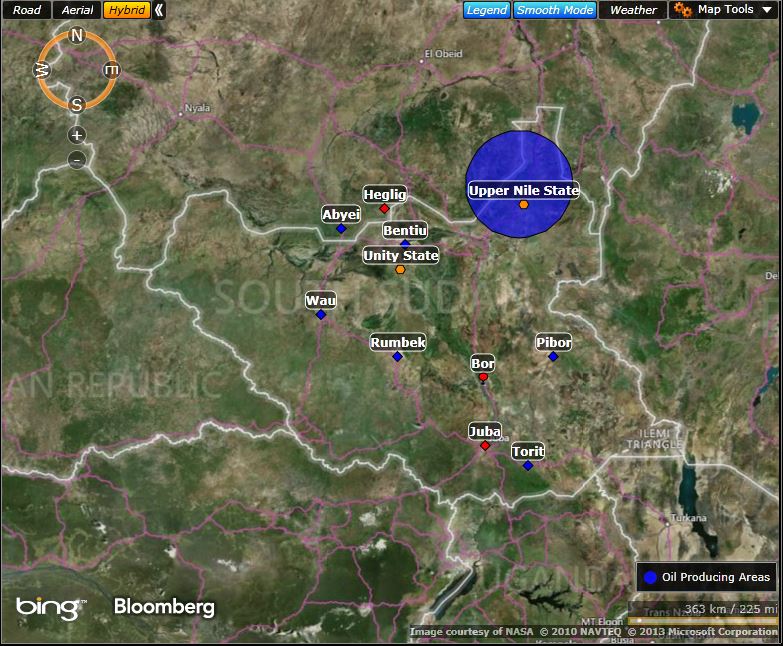 The appointment of a new deputy appears to be "a decisive break with the past" and means South Sudan's armed opposition is split between the Machar and Gai camps, Jared Jeffery, an analyst at NKC African Economics, said Tuesday in a note. This division could be reflected in oil-rich Unity state, where there's been recent fighting, although the "coming days will make it clearer whether the rebel forces have split and whose side they are on," he said.
The latest clashes have forced 37,491 people to flee to neighboring Uganda, with more than 90 percent of them women and children, UN Refugee Agency spokesman Adrian Edwards said on Tuesday in Geneva. New arrivals report ongoing fighting, looting by militias and the murder of civilians, with some saying armed groups separated them from their husbands or fathers who were forcibly recruited, according to Edwards.
(
Updates with UN Refugee Agency statement in final paragraph.
)
Before it's here, it's on the Bloomberg Terminal.
LEARN MORE