Rajan Successor Must Guard Autonomy, Former India RBI Chief Says
by and
Former chief Subbarao says low inflation is in public interest

Subbarao writes on often fraught relationship with government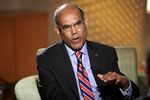 Whoever replaces Governor Raghuram Rajan must continue to preserve the independence of India's central bank, said Duvvuri Subbarao, his predecessor at the 81-year-old institution.
"Autonomy of course is asserted by the governor as an individual, as a leader of the institution, but a certain amount of autonomy is ingrained in the institutional strength of the Reserve Bank," Subbarao said in an interview in Mumbai on Tuesday. "So whoever succeeds Dr. Rajan, the hope and expectation is that he or she will continue that tradition."
Rajan announced plans to leave the central bank at the end of his term in September after a prominent member of Prime Minister Narendra Modi's government attacked him for keeping interest rates too high. His departure opens the possibility of relaxing a new inflation target at a time when price pressures are rebounding.
In his book, "Who Moved My Interest Rate?", Subbarao wrote of an often fraught relationship between the central bank and government, which preferred lower borrowing costs to spur economic growth. Known as "baby-step Subbarao" for his measured interest-rate increases even as price pressures surged, he partly blames his decisions on faulty data, which at the time suggested growth was fragile before later being revised upwards.
Growth Surging
Rajan has almost the opposite problem. Official figures show that India is the fastest-growing big economy in the world and inflation, while still higher than the RBI's 5 percent target for March 2017, is far from the double-digit increases seen in 2013. The benchmark repurchase rate is at a five-year low.
Even so, government officials including Finance Minister Arun Jaitley have criticized policy as being too tight and stifling investment. The administration has yet to reconfirm support for Rajan's plan to lower the consumer-price target to 4 percent in 2018.
Bringing down inflation from the current 5.77 percent "is going to be significantly more challenging" than the previous task of lowering it from about 8 percent, Subbarao said. "In a country like ours, if growth accelerates because of demand, without a corresponding increase in production capacity, you're going to have inflation and the RBI will have to control that through monetary policy."
RBI Independence
Subbarao said one of the incoming governor's main tasks will be to implement a proposed rate-setting panel and the discipline of inflation control -- and then institutionalize it independent of individuals. That view was echoed by Rajan, who on Tuesday called on governments around the globe to protect the independence of central banks to ensure sustainable economic growth.
With elections looming and investors scrutinizing each action for signs of political pressure, Subbarao had some tips for the new governor to avoid appearing subservient to the government.
"My advice to the new governor will be to not overtly behave in any way to live down that impression, but show by everything that he says and does that he stands for the larger public interest," said Subbarao, who spent a career as a bureaucrat. "And the larger public interest is to maintain low and steady inflation, which is a necessary condition for long-term sustainable growth."
Before it's here, it's on the Bloomberg Terminal.
LEARN MORE