Paramount Escapes Fine as Sky TV Pledge Wins EU Approval
By
EU seals Europe-wide deal with studio to change Sky contracts

Commitments will last five years, covering online, satellite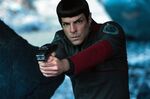 Viacom Inc.'s Paramount Pictures will avoid possible antitrust fines in a European Union crackdown on Hollywood pay-TV contracts after allaying regulators' concerns with a pledge to alter agreements with Sky Plc.
Paramount will drop clauses that forced Sky to ensure customers outside the U.K. and Ireland weren't viewing the films online or via satellite. The European Commission said Tuesday it accepted the commitments and made them legally binding in a deal that will apply across Europe for a period of five years and cover both online and satellite broadcast services.
Previous terms from Paramount "prevented Sky U.K. from allowing EU consumers outside the U.K. and Ireland to access films via satellite or online," the commission said in a statement. "Paramount has now committed that it will neither act upon nor enforce these clauses in existing film licensing contracts."
Paramount is the only studio to have so far offered commitments in an EU probe that's also embroiled Walt Disney Co., Time Warner Inc.'s Warner Brothers unit, Comcast Corp.'s NBCUniversal, and Sony Pictures over their contracts with pay-TV giant Sky Plc.
The Brussels-based EU watchdog last year sent the companies a statement of objections laying out its antitrust concerns that clauses in the licensing deals between the studios and Sky "eliminate cross-border competition" and "partition the internal market along national borders." This was followed by a three-day hearing in January, where the studios and Sky sought to rebut the regulator's suspicions.
"The commitments permit Paramount to continue to license films through premium pay-tv output license agreements in Europe on an exclusive territorial basis," Viacom and Paramount said in an e-mailed statement.
"In addition, today's agreement eliminates the possibility of fines and enables the commission to close similar pending cases against Viacom and Paramount relating to broadcasters in Italy, France, Germany and Spain," they said.