Iran to Cap Government Pay as Salaries Scandal Sparks Furor
by
Monthly government salaries are to be limited to $3,200

Issue has became political as Rouhani faces re-election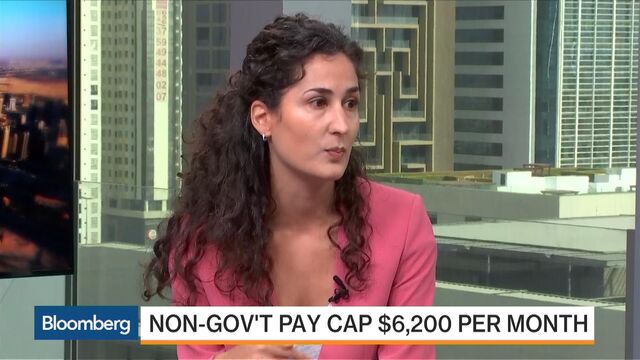 Iran will cap monthly government salaries as it tries to contain an uproar over high executive wages that has rocked the country's financial industry.
A monthly limit of $3,200 will apply to officials including the heads of the executive, judicial and legislative branches of government, state-run Islamic Republic News Agency cited Vice President Mohammad Bagher Nobakht as saying on Tuesday. Monthly salaries of non-government officials will be limited to about $6,200, he said.
The caps are being applied following media reports of top managers at some of the nation's leading financial institutions earning tens of thousands of dollars a month, vast sums in Iranian terms. Supreme Leader Ayatollah Ali Khamenei has condemned the "astronomical salaries" and urged "firm" action against them. President Hassan Rouhani's opponents have sought to put the blame on him, something supporters see as a campaign to undercut his re-election chances next year.
Rouhani, who took office in 2013 promising to make government more transparent and stamp out corruption, has called for an investigation and promised to "extract the people's money from the thieves' throats." At the same time, he said the exorbitant wages were not widespread, applying to several hundred of the state's 8 million employees, the Shargh newspaper reported.
Executives Resign


The salary scandal has led to high-profile resignations and arrests. Four chief executive officers of state-run banks and the management of the Islamic Republic's $80 billion sovereign wealth fund have quit or were replaced after details of their salaries were leaked. While modest compared to banking salaries in the West -- the disgraced head of the wealth fund reportedly earned $220,000 a year -- their incomes are widely perceived in Iran as excessive at a time when the economy is struggling to recover from international sanctions removed in January.
Rumors that top officials of the elite Iranian Revolutionary Guard Corps also collect inflated paychecks circulated on social media and websites. A spokesman, General Ramezan Sharif, denied the allegations, while citing national security as a reason for not disclosing salary details, Shargh reported Tuesday.
"These rumors on salaries suggest the matter is turning into a political debate," Sharif said. Outsize salaries "hurt the legitimacy of the regime," and action must be taken against them, he said.
Last week, the guards said they arrested the former head of Bank Mellat and one of his deputies on a judicial order. Guards chief General Mohammad Ali Jafari said the move was tied to a bigger fraud case beyond the salary scandal, and that some politicians were also involved, local media reported.
Before it's here, it's on the Bloomberg Terminal.
LEARN MORE