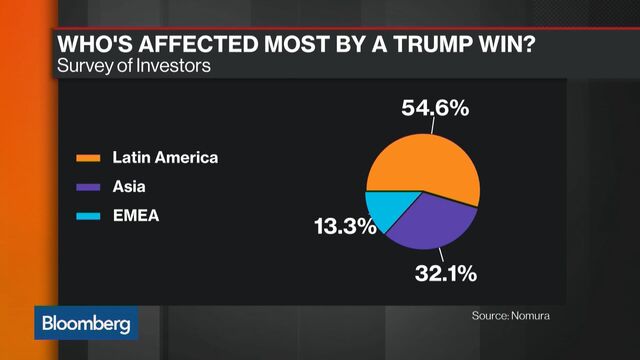 Investors say there's a low chance Donald Trump will build a wall on the U.S. border with Mexico if he becomes president. But they think it's highly likely he'll slap tariffs on Asian imports, triggering a currency war. 
An investor survey conducted earlier this month by Nomura Holdings Inc. flags a long list of worries under a Trump presidency: from a possible rise in trade protectionism to threats to regional security if the U.S. cuts its military commitments in Asia.
The conclusion is clear: after Mexico, Asia is most at risk.
Updated: Trump's Win May Be Asia's Loss
"A Trump presidency would no doubt hurt Asia's gross domestic product growth and could ultimately drive cost-push inflation, impart smaller trade surpluses and looser macroeconomic policies," said Rob Subbaraman, the report's lead author.

In Nomura's report, titled "Trumping Asia", 77 percent of respondents in its survey expect the U.S. will brand China a currency manipulator under Trump and 75 percent predict he will impose tariffs on exports from China, South Korea and Japan. Only 37 percent think he will follow through with a pledge to build a wall along the Mexican border. 
Nomura didn't disclose how many respondents it surveyed. 
Investors' fears aren't unwarranted. Asia is the world's manufacturing hub and many nations are export-dependent, putting them at risk if trade barriers start rising.
China was the U.S.'s biggest trading partner last year, and if trade restrictions are imposed on the nation, the knock-on effects on the rest of Asia would be substantial, according to Nomura.

None are more vulnerable in Asia than South Korea and the Philippines. South Korea faces a possible backlash from two sides: Trump has criticized a 2012 free-trade agreement with the country, saying it has destroyed almost 100,000 American jobs; and he has vowed to force South Korea to meet the full cost of security guarantees provided by the U.S., which may add to fiscal woes there, Nomura said.
The Philippines faces risks because of possible immigration restrictions. The U.S. is host to 35 percent of the total number of Filipinos working abroad, and Nomura estimates they account for about 31 percent of total worker remittances, a key source of foreign inflows for the local economy.
The Philippines has one of the biggest export exposures to the U.S. in Southeast Asia and Trump's pledge to bring jobs back to the U.S. may threaten the nation's burgeoning business process outsourcing sector. The industry caters mostly to U.S. companies and attracts revenue that may equal the size of total worker remittances, about 9 percent of GDP, over the next two years, according to Nomura.

Nomura's analysis finds the least vulnerable economies include India and Thailand.
While the majority of respondents in the Nomura survey view a Trump victory as unlikely, the threat of protectionism is real. 
Trump has already pledged to withdraw the U.S. from the Trans-Pacific Partnership -- a free-trade agreement covering 12 countries from Peru to Malaysia and that accounts for 40 percent of the global economy. If TPP is ratified before President Barack Obama leaves office, Trump still has the authority to withdraw the U.S. from the treaty.
Under U.S. law, the president can impose punitive duties, including a 15 percent tariff for a maximum of 150 days without prior Congressional approval in the case where the U.S. has a "large and serious" balance of payments deficit with another nation, such as China.
If China is declared a currency manipulator -- a power that resides with the U.S. Treasury without needing the approval of Congress -- it could trigger a range of trade restrictions too. Under these conditions of rising trade barriers and reduced foreign investment, Chinese policy makers may seek to weaken the yuan at a faster rate,  according to Nomura.
Trump could well change his policy views in the run-up to the November election and Asian officials are bracing themselves for inconsistent messages until then.
"We are all discovering Donald Trump, as he is himself: there is a stream of consciousness approach to policy pronouncements," Singapore's Deputy Prime Minister Tharman Shanmugaratnam said in April. "One can only hope that it evolves towards addressing the strategic interests of the United States in the world."


Before it's here, it's on the Bloomberg Terminal.
LEARN MORE