Home Sales Jump, Confidence Stable: U.S. Economic Takeaways
by , , and
Demand for new houses climbs to more than eight-year high

Consumers more confident about current state of economy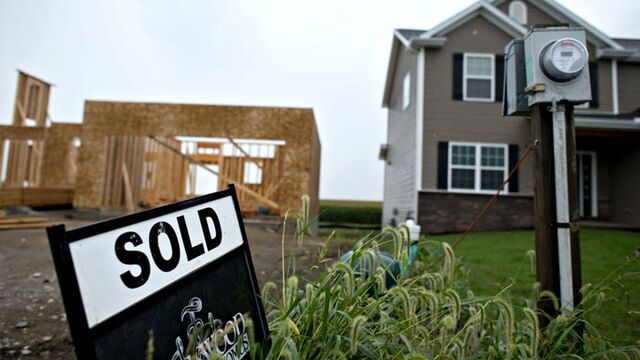 What you need to know about Tuesday's U.S. economic data:
NEW-HOMES SALES (JUNE)
Rose 3.5 percent to 592,000 annualized pace (forecast was 560,000), strongest since February 2008
Regionally, sales up 10.9 percent in West and 10.4 percent in Midwest to highest level since November 2007
Previously reported decrease in May was revised away, now unchanged at 572,000 rate
Supply of homes dropped to 4.9 months, leanest since February 2015
The Takeaway: While notoriously volatile from month to month, the unexpectedly strong new-home sales figures highlight a firm housing market supported by historically low mortgage rates and steady job growth. A limited supply that's contributing to rising prices and inhibiting entry-level buyers is nonetheless keeping the progress in residential real estate from broadening. In June, the only price range to increase its share of purchases were properties valued between $400,000 and $500,000. Even with stronger sales, housing's contribution to economic growth will probably be modest.

CONSUMER CONFIDENCE INDEX (JULY)
97.3 (forecast was 96) after a revised June reading of 97.4
Present conditions gauge rose to 118.3, highest since September, from 116.6
Consumer expectations index fell to 83.3 from 84.6
The Takeaway: Households are taking a wait-and-see approach with their finances and spending plans, but remain generally positive about current economic conditions. The Conference Board's index held close to the five-month high reached in June, with households largely apathetic about events in Europe at the same time the U.S. presidential race heats up. With a stable labor market, rising share prices and solid home sales numbers, the consumer is in a good spot.

S&P CORELOGIC CASE-SHILLER HOME PRICES (MAY)
20-city index rose 5.2 percent from year ago (forecast was 5.5 percent)
Fell 0.1 percent on a monthly basis after a 0.2 percent April decrease, first back-to-back decline since June-July 2014
Six cities posted lower property values in May from a month earlier
Nationwide home values increased 5 percent from May 2015
The Takeaway: Homes values were a bit more subdued during the busy selling season, setting up an environment in which both buyers and sellers still had the potential to benefit. Regional patterns are shifting, with the Pacific Northwest taking over the lead in house-price gains in May. San Francisco posted the biggest monthly drop, while New York, Los Angeles and Cleveland also saw decreases, indicating less momentum in these once-hot markets. Home prices "are not looking quite as strong as they looked over the last year," Nobel laureate Robert Shiller said in an interview on Bloomberg Television.

Before it's here, it's on the Bloomberg Terminal.
LEARN MORE