Home Prices in 20 U.S. Cities Rose Less Than Forecast in May
by
Pacific Northwest region takes over lead in price appreciation

San Francisco led six cities seeing monthly price decreases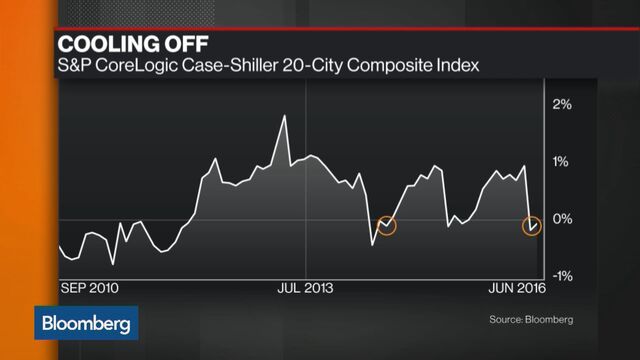 Home prices in 20 U.S. cities rose less than projected in May from a year earlier, signaling both buyers and sellers had the potential to benefit during the busy selling season, according to S&P CoreLogic Case-Shiller data reported Tuesday.
Key Points
20-city property values index increased 5.2 percent from May 2015 (forecast was 5.5 percent) after climbing 5.4 percent in the year through April
National home-price gauge rose 5 percent from 12 months earlier
On a monthly basis, the seasonally adjusted 20-city measure fell 0.1 percent from April, following a revised 0.2 percent decline the prior month, the first back-to-back decrease since June-July 2014

Big Picture
The report follows a round of more timely data that showed purchases of previously owned homes climbed in June to the highest level since February 2007, from May. A report on new-house sales, also released on Tuesday, showed an increase last month to the highest level in more than eight years. Steady hiring and cheap borrowing costs are encouraging potential buyers, while hurdles for bigger gains in demand include limited inventory, especially among lower-priced properties. Sustained growth in prices may encourage more current owners to put up their dwellings for sale.
Economist Takeaways
Home prices "are not looking quite as strong as they looked over the last year," economist and Nobel laureate Robert Shiller said in an interview on Bloomberg Television.
"People should be buying a house if they want a house and not speculating that these price increases will continue," he said, emphasizing that house price appreciation has averaged less than 1 percent a year over the past century.
Shiller, a Yale University professor who co-created the home price index, expects property price gains will continue, and anticipates the Federal Reserve won't raise interest rates this year.
The Details
All 20 cities in the index showed a year-over-year gain, led by a 12.5 percent advance in Portland, Oregon
Smallest advance was in New York, which saw a 2 percent increase
After seasonal adjustment, Portland had the biggest month-over-month gain at 0.7 percent and San Francisco had a decline of 1.3 percent
Six cities showed seasonally adjusted price decreases in May over the prior month, including New York, Los Angeles and Cleveland
Before it's here, it's on the Bloomberg Terminal.
LEARN MORE