Islamic State Claims Attack After Priest Murder in French Church
by
Assailants slit victim's throat, according to Le Figaro

Anti-terrorism probe started, Hollande travels to scene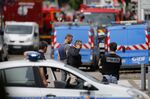 French police killed two attackers who seized hostages and murdered a priest during a siege at a church in Normandy in the latest attack claimed by Islamic State amid a wave of terror attacks across Europe.
The police said they killed the assailants as they ended the standoff in north-western France on Tuesday morning. Le Figaro reported that the attackers cut the priest's throat, citing police sources. The Paris prosecutor's anti-terrorism unit has been tasked with looking into the assault.
"Security services intervened extremely quickly to avoid a higher death toll," President Francois Hollande said in a televised statement from the scene of the killing. He said France is not the only country that has been struck by the recent violence and that "adversity will bring us together," he added.
Islamic State's Amaq News Agency said two "soldiers of the Islamic State" carried out the attack on the Normandy church. The attackers responded to calls to target "countries belonging to the crusader coalition," according to the claim shared by U.S.-based SITE Intel Group, which monitors jihadist social media.
Security services have been on alert in France after a 31-year-old Tunisian with French residency drove a rented 19-ton refrigerator truck through crowds on Nice's seafront promenade earlier this month, killing 84 people. Germany has also boosted safeguards at airports, train stations and other public places after three deadly attacks carried out by refugees.
Hollande warned that the threat level in France remains high and said "all means" must be used in the fight against the Islamic State.
A preliminary identification shows one of the attackers in Normandy may have been known by French intelligence services after a failed attempt to go to Syria last year, BFM TV reported. The man was still wearing an electronic bracelet, the channel said, suggesting he may have been closely tracked by the authorities.
Before it's here, it's on the Bloomberg Terminal.
LEARN MORE