Forget Helicopter Money, Helicopter Coupons May Work, OECD Says
By
Policy makers have responsibility to fuel growth, Mann says

OECD Chief Economist Mann comments in Bloomberg TV interview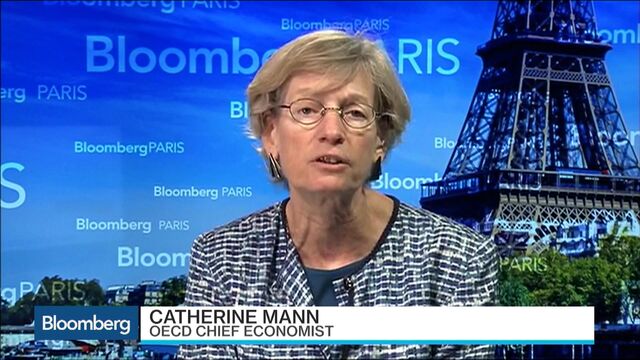 Free cash from the skies won't boost growth but free shopping vouchers might, said Organisation for Economic Cooperation and Development Chief Economist Catherine Mann.
"Helicopter money by itself isn't going to be any more effective at gaining economic growth than what the central banks have been doing already," Mann told Francine Lacqua and Tom Keene on Bloomberg TV. As a saver, "you're just going to take the helicopter money and put it in your mattress -- where you've been keeping the rest of it," she said. "Now, helicopter shopping coupons: we could talk about that, where you actually have to go spend the money."
With central banks getting closer to exhausting their non-standard policy options, helicopter money is gaining traction among some economists. Officials are still rejecting the idea. The Bank of Japan is expected to add stimulus this week but so far Governor Haruhiko Kuroda has ruled out that form of easing.
The theory behind the concept is to fuse monetary and fiscal policies: Cash-strapped governments sell short-term debt straight to their central bank for newly printed money that is then injected straight into the economy via tax cuts or spending programs. The usual intermediaries, like banks, are bypassed.
For a QuickTake explainer on helicopter money, click here.
Almost eight years after the onset of the financial crisis that pushed the global economy into the deepest recession since the Great Depression, growth remains subdued in many parts of the world, with the International Monetary Fund predicting an expansion this year of just 3.1 percent. The slow-motion recovery has failed to extinguish the lingering anxiety among consumers and companies that leads both groups to hold back on their spending.
"We can't just stick with this low nominal GDP growth," said Mann. "As policy makers and as politicians we have to recognize that we have the tools" and that "it's our responsibility as politicians and policy makers to do that because otherwise our youth won't have jobs and a better future and our old people: we won't be able to pay for their pensions. "