Foreigner Property Tax Set to Cool Vancouver's Decade-Long Tear
by and
Residential home sales may drop as much as 20%: TD Economics

Loopholes remain that could allow foreign buyers to skirt tax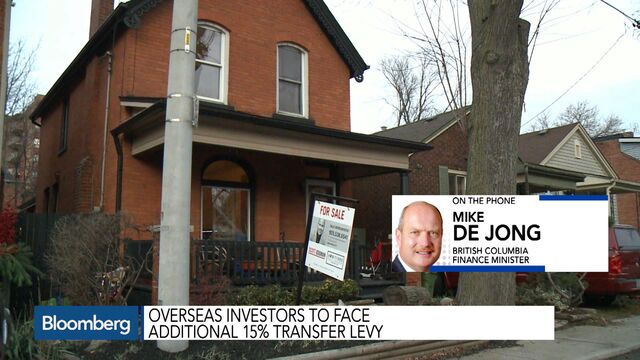 A new property tax on foreign buyers may finally cool Canada's hottest market after home prices more than doubled in the last decade.
Buyers from abroad will pay an additional 15 percent transfer tax on purchases of residential homes in Vancouver starting Aug. 2, the province of British Columbia said Monday, joining governments from the U.K. to Singapore to Australia in taking steps to curb overseas demand and keep prices within the reach of locals.
The measure, which was more significant and sudden than many had expected, could result in a 5 percent drop in average prices, and as much as a 20 percent drop in Vancouver residential home sales over the next three quarters, Michael Dolega and Diana Petramala, economists at Toronto-Dominion Bank, wrote in a report Tuesday.
"I think this marks some sort of paradigm shift," Dolega, based in Toronto, said in a telephone interview, referring to concern about surging housing prices in some Canadian cities. "There are definitely changes afoot."
British Columbia absorbed more than C$1 billion ($760 million) of foreign housing investment in five weeks alone this summer, British Columbia Finance Minister Michael de Jong said Monday when announcing the proposed legislation. Speaking to reporters Tuesday, de Jong defended his decision not to give advance notice.
"Why didn't we warn people? It's tax policy," de Jong said.

Possible Adjustments
The proposed legislation, which still needs to be passed by the provincial legislature, allows British Columbia to adjust the tax rate within a range of 10 percent to 20 percent at a later date and also expand it beyond Vancouver, according to Kate Everett-Allen, a researcher at real estate consultant Knight Frank.
Some loopholes exist and details as to how the new measures will be policed "remain unclear," Everett-Allen wrote on the company's website. The tax relies on buyers self-reporting nationality, and it's not clear whether a resident with citizenship could potentially buy a property by proxy for a family member living abroad, she said.
Still, "there is no doubt that the new law will cool sales volumes and prices as foreign buyers absorb the additional cost implications," she said.
Prices in Singapore have fallen 10 percent since the country raised its stamp duty to 15 percent in early 2013, along with additional changes to property tax rates and regulation, plus greater supply, according to TD Economics.
Pricey Vancouver
Buying a mainstream house in Vancouver has now become more expensive than purchasing a similar one in the greater London or New York metropolitan regions by some measures.
Here are average home prices in mainstream residential markets, according to Knight Frank Research data provided by Everett-Allen:
Vancouver C$917,800 ($694,934)
London 470,343 pounds ($617,700)
New York $467,900
San Francisco $770,300


"Given the level of prices, it's hard to imagine people in Vancouver earn enough" to buy a home, Charles St-Arnaud, a senior economist at Nomura International Plc in London, said by phone.
St-Arnaud estimates C$1.5 billion to C$2 billion of foreign cash is flowing into Canada real estate every month, in addition to C$10 billion on average into securities such as stocks and bonds, and another C$4.5 billion in foreign direct investment. 
It's not clear whether the tax will create a big downturn, St-Arnaud said. 
"But when you look at the economics, 5 percent of the transactions are with foreigners, and it's always the marginal buyers that drive the price higher," he said. "If those marginal buyers disappear, the market price settles."
Before it's here, it's on the Bloomberg Terminal.
LEARN MORE