Emerging Stocks Rise as Global Stimulus Outlook Outweighs Oil
by , , and
Developing-nation equity gauge extends second monthly gain

Russian, Colombian currencies weaken on commodity weakness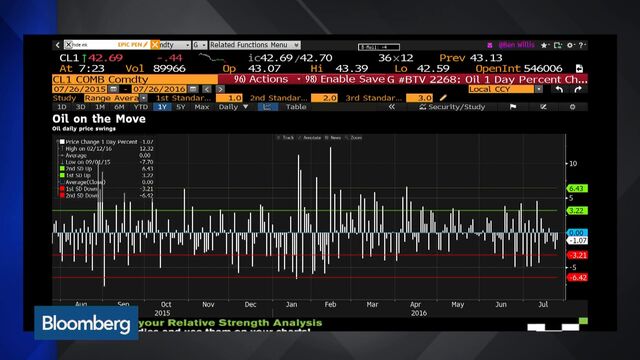 Emerging-market stocks resumed this month's advance amid speculation that policy makers in the U.S. and Japan will continue to support economic growth, outweighing a decline in energy stocks as Brent crude sold for less than $45 a barrel.
Equity gauges from China to Russia and South Africa advanced as the MSCI Emerging Markets Index headed for a second monthly gain. Futures trading shows there's about a 12 percent chance the Federal Reserve will increase interest rates when it announces its policy decision Wednesday, while most economists predict the Bank of Japan will increase stimulus two days later. Developing-nation energy stocks posted their biggest decline in three weeks.
"The yield-searching environment is still going on among investors globally," said Jeffrosenberg Tan, an associate director at PT Sinarmas Sekuritas in Jakarta. "The weakness in developed countries is actually a blessing in disguise for these developing economies," though emerging markets still remain vulnerable to any major global stock selloff, he said.
Crude's 15 percent retreat since early June is undermining one of the biggest drivers of this year's rebound in developing countries, many of which rely on income from commodities including oil, natural gas and industrial metals to balance their budgets. While emerging-market stocks are on course for their best month since March on speculation the Federal Reserve will keep interest rates lower for longer, wagers for monetary policy tightening have risen in the past week.
Stocks
The MSCI developing-nation equity benchmark advanced 0.2 percent to 870.72, pushing its gain in July to 4.4 percent. Six of 10 industry groups rose Tuesday.
Equity indexes rose 1.1 percent in China, 0.8 percent in Korea and 0.4 percent in Taiwan. The Shanghai Composite Index climbed the most in two weeks, led by consumer companies, amid optimism that China's economy was stabilizing.
The Micex Index advanced 0.4 percent in Moscow. South Africa's equity benchmark gained 0.7 percent. The Budapest Stock Exchange Index increased 0.2 percent.
The Ibovespa slipped 0.2 percent as declines in Brazilian lenders including Itau Unibanco Holding SA outweighed gains in consumer stocks including mobile-phone operator Tim Participacoes SA, which posted financial results that bolstered investor optimism.
Shares in Saudi Arabia lost 0.7 percent in their sixth day of declines, the longest losing streak since September. Saudi Telecom fell 0.5 percent after reporting second-quarter net income fell 27 percent.
Currencies
The MSCI Emerging Markets Currency Index was little changed. Russia's ruble weakened 0.8 percent against the dollar. The currency has fallen as oil, the country's biggest export, slid below $45 a barrel on Monday for first time in two months. The Colombian peso dropped 1.5 percent.
Hungary's forint weakened 0.3 percent versus the euro as the nation's central bank maintained the benchmark three-month deposit rate at record-low 0.9 percent, as forecast by 19 economists in Bloomberg survey.
Bonds
The premium investors demand to own emerging-market debt over U.S. Treasuries widened five basis points to 358, according to JPMorgan Chase & Co. indexes.
The yield on Russian 10-year ruble bonds rose three basis points to 8.69 percent. Similar-maturity Turkish notes yielded 9.78 percent after increasing 13 basis points.
Ghana's bonds fell with yields surging the most in six weeks after Finance Minister Seth Terkper said the West African nation will increase spending even as a budget deficit is seen widening to lower revenues from oil. Yields on Ghana's $1 billion of Eurobonds due August 2023 rose 36 basis points to 10.06 percent in the capital, Accra, the most on a closing basis since June 14.
Before it's here, it's on the Bloomberg Terminal.
LEARN MORE