Earliest China Private Indicators Signal Sentiment Upswing
Bloomberg News
Business confidence, executive sentiment, sales pulse edged up

Minxin gauges suspended 'indefinitely,' ending one first look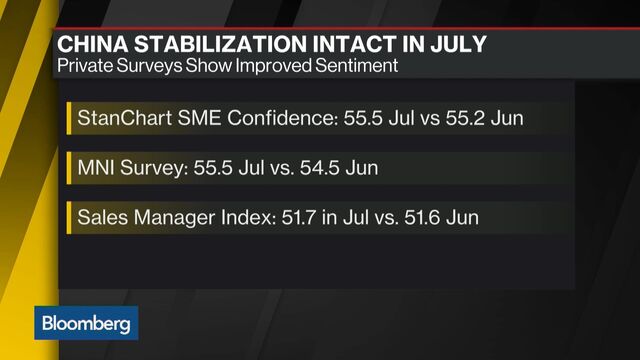 China's economic stabilization remains largely intact this month, according to the earliest private indicators that suggest June's fresh momentum has continued into July.
Three readings based on private surveys all showed slight improvement in July, signaling better sentiment at big companies and small ones as well as steady confidence among sales managers. A gauge of steel industry sentiment strongly rebounded, while consumer sentiment eased.
Growth stabilized in the second quarter with a second consecutive 6.7 percent year-on-year expansion that exceeded analysts' estimates. Official data showed June industrial output, retail sales and the broadest measure of new credit also beat projections. The Bloomberg Intelligence monthly China gross domestic product tracker rose for three straight months, to 7.13 percent in June.
One proviso for this month is that observers of the world's second-biggest economy have fewer tea leaves to read. The China Minxin PMI indexes, usually published on the 21st of each month, has been suspended "indefinitely." Another early read from Markit Economics and Caixin Media was scrapped in October. Baidu Inc. also has paused its early gauge on smaller businesses.
The first official July data are due Monday. The government's purchasing managers index is forecast to remain at 50 -- the dividing line between improvement and deterioration -- for a second straight month, according to economists surveyed by Bloomberg as of Tuesday.
Here's what the earliest private indicators show:
SME Confidence
Standard Chartered Plc's Small and Medium Enterprises Confidence Index edged up to 55.5 in July from 55.2 in June, after falling the previous two months. Readings for commercial services and manufacturing improved, while those for wholesale and retail businesses declined. Companies report that they expect the yuan to weaken because of the Brexit vote, Standard Chartered said.
"Activity has stabilized at a weak level after a setback in May and June," Shen Lan, a Beijing-based China economist, wrote in the report. She added that domestic demand, investment and raw-material stocking have picked up. "However, the mild improvement in demand has yet to fully filter through to production," which hasn't rallied, she wrote.

Executive Sentiment
Executives at China's largest companies are more upbeat. The MNI China Business Sentiment Indicator climbed to 55.5 from 54.5 in June, according to Market News International.
"The macro-stabilization measures implemented by the Chinese authorities continue to underpin growth momentum," Andy Wu, senior economist at MNI Indicators, said in a statement. "The pessimism about China appears to have been overplayed and the economic performance in the current quarter will likely continue to hold up reasonably well."
The relatively volatile indicator is based on a survey that includes about 200 companies listed on the Shanghai or Shenzhen stock exchanges.
Yet the survey results haven't convinced everyone. "The MNI has a very loose relationship with monthly core activity data and so is not a particularly effective leading indicator," Zhao Yang, chief China economist at Nomura Holdings Inc. in Hong Kong, wrote in a report.
Sales Managers
Confidence among sales managers remains steady. An index by World Economics Ltd., a London-based research firm, edged up to 51.7 in July from 51.6 in June and remained slightly above the average level in the past six months. The data suggests a low but stable expansion pace, Chief Executive Ed Jones wrote in a statement.
"China's great slowdown has come to an end," he wrote, adding that growth expansion may be only half that of the officially stated pace. "The modest levels of business confidence reported mean that we're unlikely to see a major pickup during the remainder of the year as the economy continues its shift from industry to consumer-led" growth.
Satellite View
The China Satellite Manufacturing Index was little changed at 48.3 in July. That's in line with the June level, which was the highest of this year, according to San Francisco-based SpaceKnow Inc., which analyzes thousands of industrial facilities using commercial satellite imagery. However, the gauge hasn't been higher than 50 since November 2014.
Steel's Strength
The steel market unexpectedly has turned upbeat, according to the S&P Global Platts China Steel Sentiment Index for July, which is based on a survey of about 70 to 85 China-based market participants including traders and steel mills.
The index jumped to a three-month high of 53.71 this month from 15.92 in June, climbing back above 50, the level that divides optimistic and pessimistic forecasts. That shows most of those polled expect steel prices to rise over the next month.
Paul Bartholomew, a senior managing editor of steel and raw materials for S&P Global Platts in Melbourne, attributed the better sentiment to higher prices that followed output cuts this month in Hebei, China's top steel-making province.
"Considering China is coming into its summer period, which typically brings slowed construction activity, and the latest manufacturing data was weak, the big improvement in the outlook for July is surprising," he said. "However, many of the readings are coming off a very low base in June."
'Nervous' Consumers
Consumers, who underpinned China's growth in the first half, turned "more nervous about their personal finances amid renewed weakness in the labor market," according to a statement Wednesday from MNI and Westpac Banking Corp.
A China consumer sentiment index produced by the institutions fell to 114 in July from 115.9 in June as more consumers refrained from purchasing big ticket items.
"Whether Chinese consumer confidence weakens further or regains its upwards momentum in the months ahead will be a critical factor for economic activity, particularly while export sectors and investment activity remain soft," Matthew Hassan, an economist at Westpac, wrote in the statement.
— With assistance by Xiaoqing Pi
Before it's here, it's on the Bloomberg Terminal.
LEARN MORE