Democrats' Star-Studded Opening Night Outdraws Republican Event
By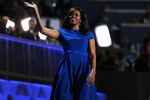 The Democratic National Convention attracted 25.7 million viewers to the major networks during the most-watched stretch of the party's opening night festivities, outdrawing the first night of the Republican event with keynote speeches by First Lady Michelle Obama and Vermont Senator Bernie Sanders.
Among all networks, Time Warner Inc.'s CNN led during the 10 p.m. to 11:30 p.m. segment Monday, with 6.21 million viewers, according to a statement Tuesday from the network. Comcast Corp.'s MSNBC was second with 4.6 million. The opening night of the Republican convention a week earlier drew 22.5 million viewers with Fox News leading, according to data from the networks.
With Fox News more popular among conservative voters, the ratings leadership was bound to flip with the Democrats' turn to nominate their presidential candidate. In addition to Obama and Sanders, who came up short against Hillary Clinton in his bid for the nomination, Massachusetts Senator Elizabeth Warren also spoke during the key time segment.
Among cable networks, CNN was also tops for all of prime time -- 8 p.m. to 11 p.m. -- with 5.12 million viewers. MSNBC was second with 3.75 million and Fox News third at 3.73 million.