Currency Traders Wary of Shorting Yen on Risk BOJ to Disappoint
by
Insight Investment is 'close to flat' on the yen: Lambert

JPMorgan sees yen rallying to 102 should BOJ fail to deliver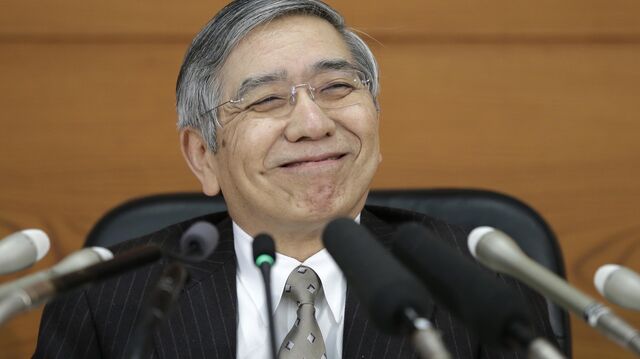 Some of the world's biggest currency traders are betting that the yen can withstand almost anything Haruhiko Kuroda comes up with on Friday.
Insight Investment Management Ltd., a unit of Bank of New York Mellon Corp., is "close to flat" on the yen. JPMorgan Chase & Co. says the currency could surge toward 102 per dollar on Friday, from 104.40 at 2:11 p.m. in Tokyo Tuesday, if the Bank of Japan fails to meet market expectations, and extend its gain to 100 in the next few months. The yen, Asia's worst performer this month, is still stronger than when the BOJ unexpectedly expanded stimulus in October 2014.

Almost 80 percent of analysts surveyed by Bloomberg forecast Governor Kuroda and his board will expand the record program at their two-day meeting starting Thursday. Traders say policy makers will need to surpass such expectations in order to weaken the currency as it becomes less sensitive to BOJ's easing, which included the adoption of a negative deposit rate this year.
'Higher Hurdle'
"There's quite a lot now priced into expectations, so the hurdle is certainly a lot higher than it was a few weeks ago in terms of something that needs to be delivered," said Paul Lambert, the London-based head of currencies at Insight Investment, which which manages more than $520 billion. "There's a lot less value getting long in dollar-yen here than there was near 100 because there's a lot more priced in."
One-week implied volatility in the yen, a measure of exchange-rate swings, surged to 25.3 percent on July 22, the highest close in 7 1/2 years. Speculation about the possibility for some radical new steps emerged earlier this month, when Kuroda and Prime Minister Shinzo Abe held separate meetings with former Federal Reserve Chairman Ben S. Bernanke, who once suggested that a central bank could overcome deflation by printing money as a last resort, which would be the equivalent of dropping money from a helicopter in the sky.
The yen surged as much as 1.5 percent after Finance Minister Taro Aso said Tuesday the government has yet to decide on the size of a fiscal stimulus package, and that monetary policy measures should be left to the central bank.
The yen has soared about 15 percent against the greenback this year, second only to Brazil's real among 16 major currencies, as Japan's current-account surplus boosted the currency's appeal as a haven from market turmoil. It strengthened to as high as 99.02 per dollar last month for the first time since 2013 after Britain voted to leave the European Union. Options traders see the yen and the Swiss franc as the only currencies among the majors that will strengthen in the coming weeks and months.
Inflation Target
The appreciation works against Kuroda's efforts to achieve his 2 percent inflation target as a stronger currency makes imported goods cheaper. Consumer prices in Japan fell for a third month in May after remaining flat in January and February.
Eaton Vance Corp., which oversees about $326 billion, doesn't have any significant position in the yen after profiting from its decline about a year ago, when it was weaker, said Eric Stein, Boston-based co-director of global fixed income at the firm.
"The more committed the BOJ is to hitting their percent inflation target, the more the yen should weaken," Stein said. "The more complacent they are to just accept things the way they are, the more the yen will strengthen." 
'Big Risk'
An increase in purchases of exchange-traded funds remains the most likely area for a boost, followed by a deeper cut in the negative rate applied to a portion of the money that commercial banks park with the BOJ, according to the Bloomberg survey of analysts. Just under half of the respondents said Kuroda would accelerate purchases of government bonds, which has been the mainstay of his efforts to drive inflation.
"There's quite a big risk of disappointment from the BOJ," said Laura Fitzsimmons, vice president for rates and foreign-exchange sales, at JPMorgan in Sydney. "The risk is that the market will sell off when they don't get what they're looking for."
Before it's here, it's on the Bloomberg Terminal.
LEARN MORE