Photographer: Qilai Shen/Bloomberg
business
Morgan Stanley Says China Remains as Key Risk to India Investors
By
Risks to India are from the East and not from the West: Sharma

The rupee has weakened since yuan's August devaluation
India has overtaken China as the world's fastest-growing major economy, but its northeastern neighbor remains the biggest risk for investors in rupee assets, says Morgan Stanley Investment Management. A case in point: the local market's reaction to Brexit.
The rupee dropped more than 1 percent to 67.97 per dollar on June 24 when it was announced the U.K. had voted to quit the European Union. It has since rebounded to trade slightly stronger than where it was before the referendum, though it remains down almost 5 percent since China devalued the yuan on Aug. 11.
"The risks to India are from the East and not from the West,'' according to Ruchir Sharma, head of emerging markets and chief global strategist at the firm. "Look at what's happening post the Brexit. The panic has subsided very quickly and markets are back to where they were before the Brexit. In contrast, see what happened to sentiment and the economy when China had problems in August last year and again in January and February this year.''
China's slowdown could impact India as Asia's biggest economy has been the largest contributor to global growth this decade, said Sharma, who made the Bloomberg Markets 50 Most Influential list last year. Any further yuan depreciation risks exporting China's deflation to developing-nation currencies, he said. The country is also India's biggest trading partner.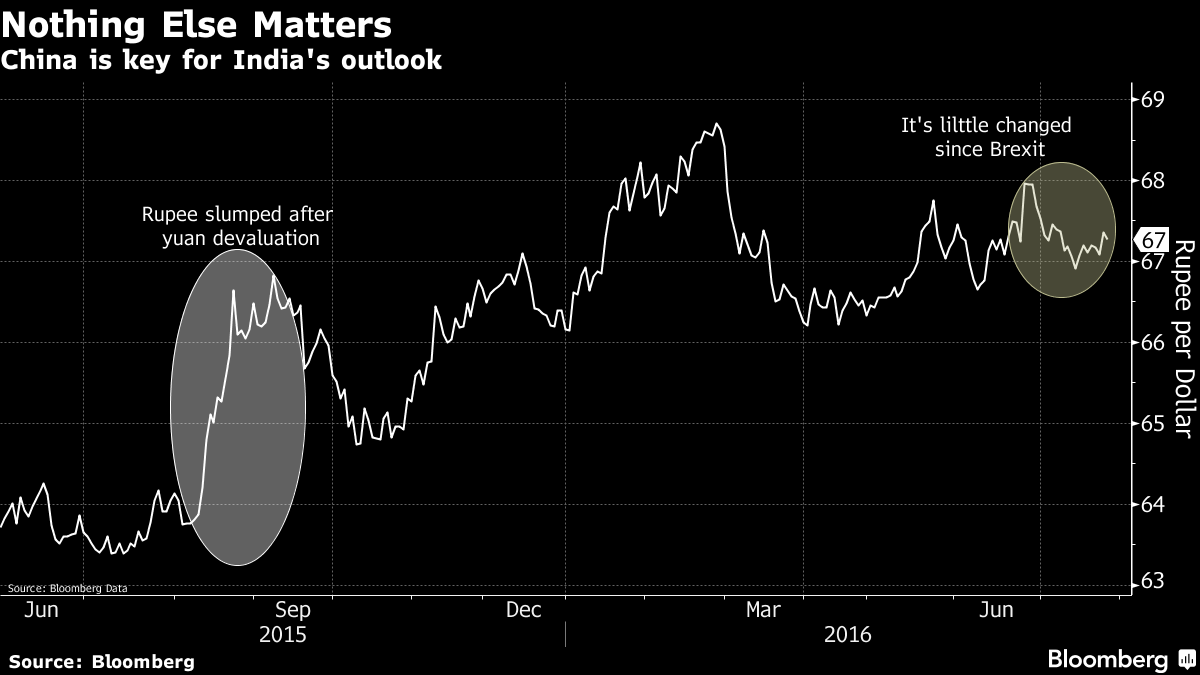 The rupee is Asia's worst performer after the yuan since China's shock devaluation of its currency roiled global markets and spurred a flight from Indian stocks and bonds. It fell to the brink of a record low in February as emerging markets sold off amid renewed concern about the health of the Chinese economy. However, foreign holdings of Indian assets have climbed since the U.K.'s June 23 vote to exit the European Union, with expectations for rupee swings since dropping at the fastest pace in Asia.
Problems in China "had a much wider sense of panic and fear in the economy and in the market place," said Sharma, who helped manage over $20 billion in assets as of March 31. "The EU has been a marginal contributor to global growth. So, what happens in the EU really doesn't matter as much as it used to matter once."
China's "debt bomb" has become one of the biggest threats to the global economy, Sharma wrote in his book "The Rise and Fall of Nations," elaborating that much of China's rise in the 2010s has been facilitated by massive fiscal and monetary stimulus, which entailed a sizable increase in its debt burden. Every one-percentage-point slowdown in China's economic expansion reduces global GDP growth by nearly half a percentage point, "with emerging markets bearing the brunt," he wrote.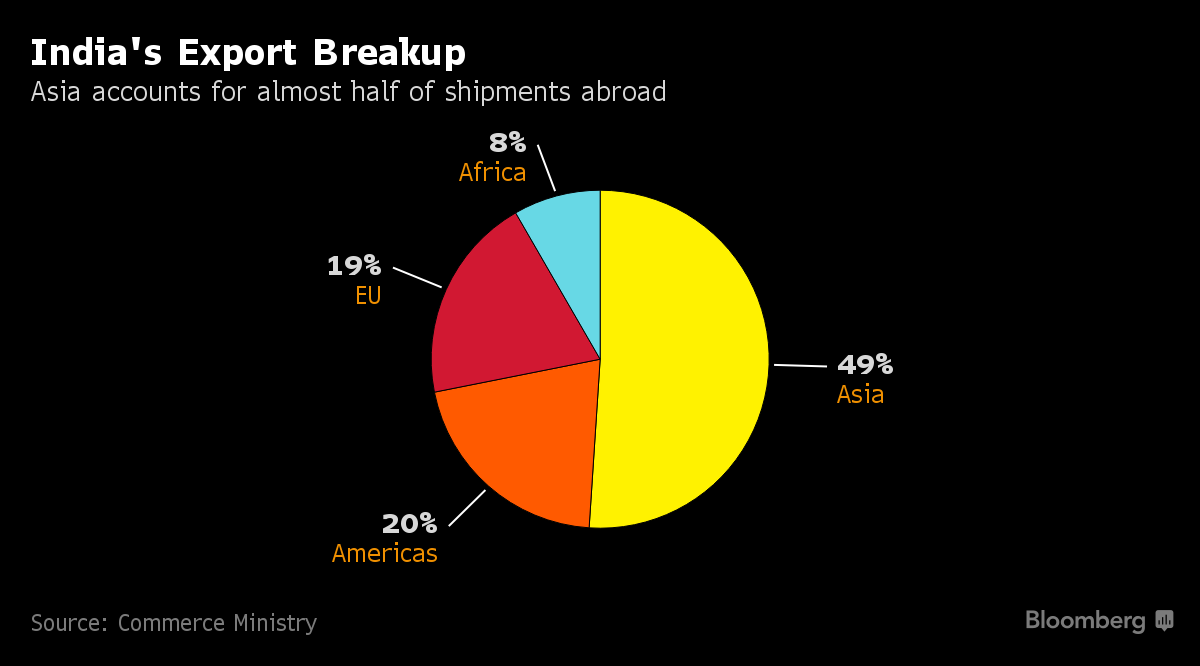 While China's prospects and economic management matter in terms of the global outlook, India is "much less vulnerable" to the developments in Asia's largest economy, according to former Indian central bank governor Duvvuri Subbarao.
"We're not certainly insulated," Subbarao said in an interview in Mumbai on Tuesday. "We might be lesser affected than some other countries as we are not part of the Asian production chain and are much less dependent on Chinese funding."
India saw its exports rise marginally in June from a year earlier, halting a record 18-month declining streak. Asia's third-largest economy grew 7.9 percent in the January-March quarter from a year earlier, the fastest among major economies and compared with China's expansion of 6.7 percent in the period. The two biggest emerging markets are probably growing much slower than official data suggests, Sharma said earlier this month.
To read more about India's GDP growth data, click here.
The rupee sank 3.5 percent last August amid the yuan devaluation, as global funds dumped $3.5 billion of Indian shares and cut holdings of bonds by 7.8 billion rupees. A gauge of emerging-market exchange rates slid 3.1 percent. The Indian currency was up 0.2 percent at 67.1550 a dollar in Mumbai on Wednesday.
It has gained 0.6 percent this month, with foreign investors buying a net $1.2 billion of local shares and ownership of rupee-denominated government and corporate notes rising by 79.3 billion rupees, set for the biggest increase in nine months. India's currency is reasonably valued and a devaluation will spur inflation and not necessarily help exports, Reserve Bank of India Governor Raghuram Rajan said earlier this month.
"Growth is really the big" channel through which India will be impacted by China's slowdown, Sharma said. "The other channel, obviously is the financial channel, which is, we have seen when the Chinese currency falls, other emerging-market currencies do also feel a bit of an impact."
— With assistance by Sandrine Rastello
Before it's here, it's on the Bloomberg Terminal.
LEARN MORE