Personal Finance
Do You Dare Take a Vacation From Your Retirement Fund?
August can be hell on your 401(k). How to position your portfolio before you hit the beach.
By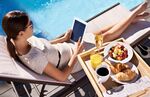 On August 24th of last year, the Dow dropped 1,000 points intraday to end down 588 points, and the S&P 500 Index fell into official correction mode. After that, we suffered through January's stock market turmoil and then got whacked with Brexit.