Billionaire Sees Switzerland Losing Luster for Rich
by and
Expects wealthy investors to move assets to Singapore, Dubai

Says he'll consider buying distressed properties post-Brexit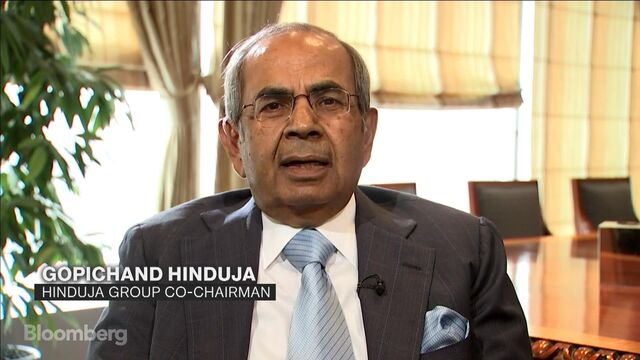 Switzerland's importance as a private banking hub will shrink after the country increased its tax transparency, according to Indian billionaire Gopichand Hinduja, one of four brothers who control the family's Hinduja Group conglomerate.
The world's richest people are instead turning to countries like Dubai, Qatar and Singapore to house their assets as Switzerland loses its allure as a haven, the 76-year-old London-based investor said.
"People are finding new havens," Hinduja said in a July 22 interview at his office near Buckingham Palace. "I don't think Switzerland can maintain its importance in banking."

Tax probes by the U.S., France and Germany and a new system of bank-data exchange between governments have scuppered the traditional "no-questions-asked" approach by Swiss banks to serving rich clients living abroad. North American and European banks are quitting Geneva and Zurich as companies battle with the loss of financial secrecy, the strong Swiss franc and pressure on profitability from low interest rates and tougher regulatory demands.
Family Structure
Hinduja is one of four billionaire brothers who control Hinduja Group, a closely-held industrial conglomerate with interests in cars, finance, media and energy on five continents. Hinduja Group's assets are owned by family members under a structure guided by the principal that "everything belongs to everyone and nothing belongs to anyone," according to the company's website. Together, the family has a net worth of $14.4 billion, according to the Bloomberg Billionaires Index.
Srichand Hinduja, one of the brothers, is the founder and chairman of Hinduja Bank Switzerland, which manages 2.3 billion Swiss francs ($2.3 billion) of assets, according to the company's 2015 annual report. Their younger brother, Prakash, is also a member of the board of directors, according to the report, and lists the luxury Geneva suburb of Cologny as his place of origin on the Swiss companies register.
For a QuickTake explainer on Swiss bank secrets, click here
"GP Hinduja is neither a shareholder, nor has any direct involvement with Hinduja Bank (Switzerland) Limited, which in no way shares his view," the bank's attorneys at M Law LLP wrote in an Aug. 6 letter to Bloomberg. "Mr GP Hinduja was speaking in a personal capacity only, and his views do not represent those of Hinduja Bank (Switzerland) Limited."
Banks in the country are investing in subsidiaries in European countries to service customers locally as Switzerland's allure fades.
Mobile Money
"People now want to be more mobile with their money," Boris Collardi, the chief executive officer of Julius Baer Group Ltd., the country's third-largest wealth manager, said in a telephone interview on July 25. "They want to be more free, they don't mind paying taxes."
Gopichand Hinduja, who has lived in London for more than 30 years, said he's not worried about the long-term effect of Brexit on property values in prime areas of the city. The weak pound and cautious consumer sentiment has made it the right time to buy and the group will be looking to acquire distressed assets, he said.
London Property
The family's London real estate assets are valued at more than $1.2 billion, according to the billionaires index. They include two residences on Carlton House Terrace totaling 100,000 square feet (9,290 square meters) that once served as the offices of the Crown Estate, the property company that generates income for Queen Elizabeth II.
In March, Hinduja Group bought the Old War Office, the former administrative headquarters of the British army, for 350 million pounds ($459.2 million) with plans to turn it into a luxury hotel. The firm has chosen an operator for the hotel, Hinduja said in the interview, declining to comment further.
"People from the Middle East, the Gulf and other places will start coming in to invest because of weak sterling," the billionaire said. "No one invests in real estate for the short term."
(
Corrects ownership description in first paragraph of story originally published on July 26. Clarifies family roles at Hinduja Bank in sixth paragraph and adds statement from bank in seventh paragraph.
)
Before it's here, it's on the Bloomberg Terminal.
LEARN MORE