Apple Sales Top Estimates as Consumers Warm to Cheaper iPhone
By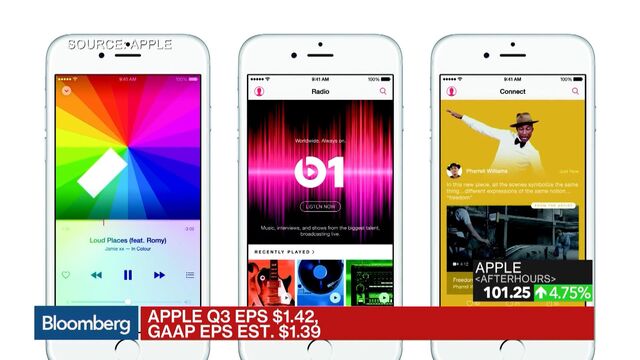 Apple Inc. reported revenue that fell less than projected and forecast fourth-quarter sales that may exceed analysts' estimates, bolstered as iPhone demand picks up and consumers warm to the company's new low-priced smartphone model.
Key Points
Fourth-quarter revenue will be $45.5 billion to $47.5 billion, the Cupertino, California-based company said Tuesday in a statement. On average, analysts projected $45.5 billion. A year earlier, sales were $51.5 billion.

Gross margin in the period that ends in September will be 37.5 percent to 38 percent.
Fiscal third-quarter revenue fell 15 percent to $42.4 billion. That topped analysts' average prediction for revenue of $42.1 billion.
IPhone unit sales for the quarter fell 15 percent from a year earlier to 40.4 million. Still, that exceeded the average estimate of 39.9 million.
Apple shares jumped 5.3 percent in extended trading after the report. They slipped less than 1 percent to $96.67 at the close in New York. The stock has fallen 8.2 percent so far this year.
The Big Picture
A slump in iPhone sales eased in the third quarter, helped by demand for the new SE model, a low-end device aimed at consumers in China and other emerging regions. With the iPhone accounting for almost two-thirds of sales, Apple has been weathering a slowdown in the global smartphone market, and Chief Executive Officer Tim Cook has sought to emphasize surging revenue from services, such as the App Store, iCloud storage and Apple Music, as a way of making up for cooling device sales.
CFO Interview
"We had a June quarter that was better than we had expected 90 days ago," Chief Financial Officer Luca Maestri said by phone. "The March quarter seems to have been the low point for the cycle."
"We had a very successful launch of iPhone SE," Maestri said, adding that the company wasn't able to fulfill demand for the lower-end device.
"There are some macro conditions that exist in China, both in mainland China and in Hong Kong." he said. "The economy has slowed down and the foreign exchange rate has weakened."
The Details
Third-quarter net income fell 27 percent to $7.8 billion, or $1.42 a share, compared with analysts' average per-share forecast of $1.39.
Third-quarter iPad shipments were 9.95 million. Analysts projected an average of 9.1 million units.
Apple said it sold 4.25 million Mac personal computers, compared with an estimate of 4.4 million.
Services revenue rose 19 percent to $5.98 billion.