Appetite for U.S. Debt Is Weakest Since 2009 in Lead-Up to Fed
by
Measure of demand at five-year note auction declines

Dealers stuck with biggest share of sale since August 2015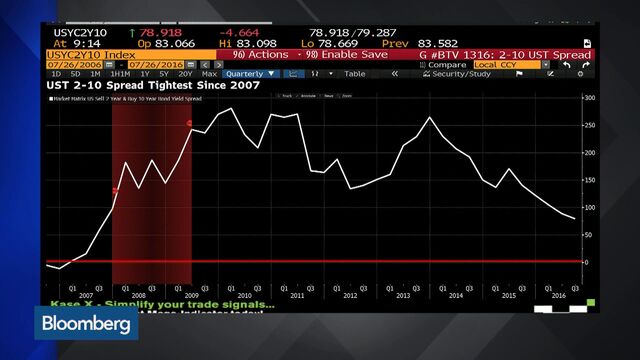 For the second day in a row, an auction of U.S. Treasury notes drew the feeblest demand in years, before central-bank decisions this week that may spark volatility in financial markets.
Five-year yields were close to a one-month high as the Treasury sold $34 billion of the maturity at steeper yields than indicated in pre-auction trading. Wall street dealers were left with about 42 percent of the debt, the biggest share since August, while a gauge of investor interest known as the bid-to-cover ratio fell to 2.27, the weakest since 2009. On Monday, the equivalent measure for a sale of two-year notes, the coupon security most sensitive to expectations for Federal Reserve policy, was the lowest since 2008.

Investors held back as they awaited policy signals from Wednesday's decision by the Fed and a Friday announcement by the Bank of Japan. The Fed may acknowledge stronger domestic economic data, such as a rebounding labor market, while the BOJ may reveal further stimulus efforts as that nation's economy sputters.
"With the FOMC and BOJ announcements coming up later this week, we get the sense that investors are firmly in 'wait-and-see' mode,"' said Thomas Simons, senior money-market economist in New York at Jefferies LLC, one of the 23 primary dealers.
The benchmark U.S. 10-year yield fell one basis point, or 0.01 percentage point, to 1.56 percent as of 5 p.m. in New York, according to Bloomberg Bond Trader data. The 1.625 percent security due in May 2026 was at 100 18/32. Ten-year yields set a record low of 1.318 percent on July 6.
For more on the Fed's meeting this week, click here.
The U.S. has company in facing waning investor interest with yields close to record lows. Demand at Australia's bond sales this year has sunk to the lowest since 2002, while an auction this month of German five-year securities had the weakest bid-to-cover since 2011.
The Treasury will wrap up the week's fixed-rate coupon auctions with Thursday's sale of $28 billion in seven-year notes, which should lure more buyers, said Gennadiy Goldberg, an interest-rate strategist in New York at TD Securities (USA) LLC, another primary dealer.
"Given our expectation that the Fed will stop short of signaling an impending rate hike, as well as month-end duration extension needs, investors could feel more comfortable buying longer durations at auction on Thursday," Goldberg said.
Before it's here, it's on the Bloomberg Terminal.
LEARN MORE