U.S. ELECTION WRAP: Democrats Struggle to Unify Amid Trump Boost
Can Democrats rally around Clinton?
By , , and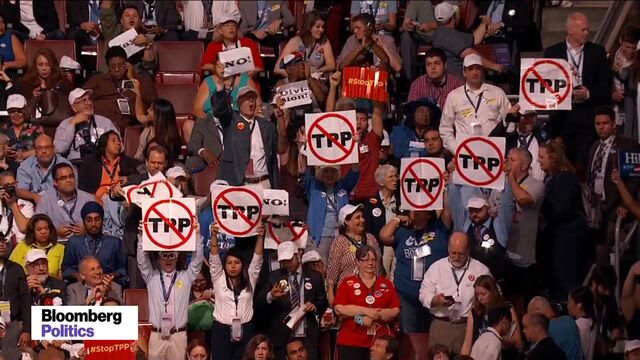 The Democratic National Convention began in Philadelphia amid sweltering heat and a political bonfire as the release of stolen e-mails reignited party acrimony on a day Hillary Clinton's camp hoped would be marked by a show of unity.
Achieving that goal likely will depend on Clinton's former primary opponent

"A lot rests of Bernie Sanders's shoulders now," Clinton surrogate and ex-Pennsylvania Governor Ed Rendell told MSNBC

He mentioned a recent poll that showed 78% of the "Feel the Bern" crowd backing Clinton over Trump

"I bet that number is significantly lower today," Rendell said. "We have a lot of work to do."

Sanders sparked boos earlier at a rally in Philadelphia after saying Clinton and her running mate, Tim Kaine, must be elected

"We want Bernie," the crowd chanted

As the convention opened this afternoon, the crowd erputed in a mixture of cheers and chants of "Bernie, Bernie, Bernie"; a chorus of Clinton supporters responded with "Hillary, Hillary, Hillary," effectively drowning out the pro-Sanders crowd
Sanders is set to address the convention tonight, along with Senators Elizabeth Warren and Cory Booker and first lady Michelle Obama; see Bloomberg story on the convention's first day

Souring the convention's preliminaries was the WikiLeaks dump of hacked e-mails showing the Democratic National Committee leadership favoring Clinton during her battle with Sanders
The embarrassing missives prompted DNC Chairwoman Debbie Wasserman Schultz to say she will step down from her post at the week's end; then, after being booed by protesters today, she decided not to even gavel the convention open as planned
The gaveling instead was performed by Baltimore Mayor Stephanie Rawlings-Blake

Prior to the e-mail dump, Sanders' speech was largely expected to be a repeat of his recent endorsement of Clinton during a joint appearance in New Hampshire

His address takes on more significance as the Clinton team works to cool Donald Trump's surge in some national polls following last week's GOP convention

Sanders supporters were out in full force today in the City of Brotherly Love, where the heat index was as high as 103 degrees Fahrenheit

Blue "Bernie" shirts and signs far outnumbered Clinton apparel near the convention center and the high-dollar delegate hotels

Some protesters brought a giant inflatable, shaped like a marijuana joint, which read "Berned by the DNC"
Bloomberg's Sahil Kapur looks at how Democrats are kicking off their convention as a far more progressive party than they've been in generations; see full story here

MORE CONVENTION
Donna Brazile, who is set to take over as interim Democratic National Committee chairman Friday, apologized to Sanders over the revelations in the e-mails

Asked if Wasserman Schultz would apologize, Brazile told ABC's "Good Morning America" that "I'm sure she understands what's at stake in this election, and we need to come together tonight"

Sanders told supporters today that Wasserman Schultz's resignation opens up the possibility of party leaders who will pursue "real change"
Sanders backers, though, see the DNC chief's departure as too little, too late, Bloomberg's Arit John reported; see full story here

FROM PUTIN (WITH LOVE?)
The FBI is investigating the cyberattack on the DNC that some U.S. lawmakers and cybersecurity experts said may be linked to the Russian government, Bloomberg's Chris Strohm reported

The Russian government reiterated a previous statement denying involvement in the hack, spokesman Dmitry Peskov told reporters Monday

Clinton campaign manager Robby Mook suggested yesterday on CNN's "State of the Union" that the leak was a bid by Russia to help Trump; Clinton's campaign chairman, John Podesta, told MSNBC this morning that although he didn't have any information linking Russia to the hack, a "kind of bromance" is going on between Trump and Russian President Vladimir Putin
New York Times asks: "Is Vladimir V. Putin trying to meddle in the American presidential election?"
Trump, for his part, tweeted: "The new joke in town is that Russia leaked the disastrous DNC e-mails, which should never have been written (stupid), because Putin likes me"

He also used the controversy to once again draw attention to his argument that Sanders was treated unfairly by the Democratic establishment
"How much BAD JUDGEMENT (sic) was on display by the people in DNC in writing those really dumb e-mails, using even religion, against Bernie!": Trump



POLLS
Trump would have a higher chance than Clinton of winning the presidency if the election were held today, with the GOP billionaire nominee as of late this afternoon at a 54.5% chance of victory vs 45.5% for Clinton, according to the constantly adjusting FiveThirtyEight prediction model

Clinton has the lead in the site's forecast models based on polls, as well as polls plus other factors, such as the economy

Trump currently leads Clinton nationally by 3 ppts after the convention, according to a CNN/ORC national poll
While nominees often see a boost in the polls ratings following their parties' conventions, those bounces usually settle, Larry Sabato, University of Virginia politics professor, said via Twitter

Average GOP bounce since 1988 is 4.5%; average Democratic bounce is 5%, according to Sabato



DEMS SKIPPING PHILLY
Democratic U.S. Senate contenders who don't plan to show up at the convention include former Senators Evan Bayh of Indiana and Russ Feingold of Wisconsin, Representative Patrick Murphy of Florida, Catherine Cortez Maso of Nevada, Jason Kander of Missouri, Jim Gray of Kentucky and Ann Kirkpatrick of Arizona, Politico reported

Feingold is running a "grassroots" campaign and looks forward to campaigning with Clinton in his state, his campaign spokesman, Michael Tyler, told Bloomberg; Feingold is in tight race with incumbent GOP Senator Ron Johnson, to whom he lost his seat in 2010

Former Vice President Al Gore also isn't attending the convention, according to the Tennessean, though today he backed Clinton in a series of Twitter posts

Gore, the party's 2000 presidential nominee, also skipped the 2012 Democratic convention




ENDORSEMENTS/REPUDIATIONS
Retired Marine General John Allen endorsed Clinton, her campaign said today

Allen, a four-star general who oversaw NATO forces in Afghanistan, said the decision to back Clinton was a "very personal" one, as he's previously stayed out of the political arena
"But given the complexities of issues facing our country today and its longtime allies, I felt compelled to speak up and be heard," he said in a statement

Former NYC Mayor Michael Bloomberg will endorse Clinton this week at the convention, the New York Times reported yesterday

Bloomberg is the founder and majority owner of Bloomberg LP, the parent company of Bloomberg News

Following the conclusion of the GOP convention in Cleveland, Stephen Hayes of the conservative magazine Weekly Standard wrote that Trump is "crazy" and that the GOP now "owns his insanity"
Washington Post editorial called Trump a "unique threat to American democracy"
Ohio Governor and Trump opponent John Kasich said the GOP nominee will have a hard time winning his state, the Philadelphia Inquirer reported

Kasich said he won't actively campaign against Trump, nor would he vote for Clinton
"As for what I do in the end, I don't know," he said



YOUTH VOTE
Sanders, in addressing supporters in Philadelphia, noted his strong support from young people; whether those voters now move to Clinton remains to be seen
In the Democratic primary fight, Sanders garnered more than 80% of the youth votes in some states

Sanders won more votes from people under age 30 than Trump and Clinton combined, according to the Center for Information & Research on Civic Learning and Engagement, with more than 2 million young voters backing him while the total for Clinton and Trump was fewer than 1.6 million
Eight years ago, 66% of those under age 30 voted for Barack Obama, which made the disparity between young voters and other age groups larger than in any presidential election since exit polling began in 1972, according to Pew Research Center

In 2012, the youth vote made the decisive difference for Obama in Florida, Virginia, Pennsylvania and Ohio, according to a study from the Center for Information & Research on Civil Learning and Engagement

The so-called millennial generation has been much more active than the age cohort before them, so-called Gen X voters: in the 1990s, youth turnout was regularly less than 40%, whereas about half of all eligible people aged 18-29 voted in 2008 and 2012, according to Politico

Younger voters overwhelmingly lean Democratic, with 51% of millennials identifying as or leaning toward Democrats and 35% Republicans, according to a 2014 Pew Research poll

Yet about 50% of these voters, despite their political leaning, self-identify as independent
Independents are on the rise in general, the same Pew survey finds—and in Colorado, unaffiliated voters now outnumber Democrats and Republicans, NPR reported




ETC 
Given Trump's "anti-Mexico rhetoric, the U.S. election presents clear risks to the Mexican peso," emerging-markets strategists Dirk Willer and Kenneth Lam wrote in a research note published Monday, Bloomberg's Alexandria Arnold reported; see full story

CONGRESSIONAL RACES
CO-SEN: Republican Darryl Glenn has new TV spot saying "America loves an underdog story, and Colorado is going to love Darryl Glenn," featuring a clip of his speech at last week's GOP Natl Convention

Glenn facing Democratic Sen. Michael Bennet in race Cook Political Report rates "Likely D"

FL-SEN: Developer Carlos Beruff, running in GOP primary against incumbent Marco Rubio, has new ad saying he's not "ashamed to support Trump"

Ad attacks Rubio for opposing Trump's immigration proposals, such as temporarily banning "immigrants from the Middle East"

IN-SEN: Democrat Evan Bayh has a new TV ad touting his time as a "young governor," and calling himself "a fiscal conservative with Hoosier values"
PA-SEN: Democratic group Majority Forward in TV ad attacked GOP Sen. Pat Toomey for voting "seven times to defund Planned Parenthood" and being against "a woman's right to choose" to have abortion

Democratic candidate Katie McGinty, in comments at party's natl convention in Philadelphia, called on Obama not to submit TransPacific Partnership trade agreement to Congress for approval in any lame-duck session
McGinty terms accord "fatally flawed"

AZ-02: GOP Rep. Martha McSally's campaign treasury far outpacing 2 Democrats seeking to be her opponent in Nov., Arizona Daily Star reported

McSally, who faces no primary challenge, has raised $4.8m this year, compared with just over $1m combined for her potential challengers, Matt Heinz and Victoria Steele

McSally has $2.6m cash on hand, 5 times as much as combined amount for the two Democrats, according to FEC filings

McSally in 2014 beat then-incumbent Democrat Ron Barber by 161 votes for seat formerly held by Democratic Rep. Gabrielle Giffords
Seat rated "Lean Republican" by Cook Political Report and Larry Sabato's "Crystal Ball"

FL-18: Republican Rick Kozell has new TV ad saying "Hillary Clinton should be in prison, she sold her power to the highest bidder"

Ad says Kozell will "shred Obamacare and stand up against the lobbyists and liberal special interests"
Crowded GOP primary field for seat Democrat Patrick Murphy giving up to run for Senate, includes military veteran Brian Mast who lost both legs in Afghanistan and has been endorsed by Sen. Joni Ernst
Kozell endorsed by N.C. Sen. Richard Burr in May
General election race rated "pure toss-up" by Rothenberg & Gonzales Political Report


FL-23: Democrat Tim Canova filing FEC complaint against Democratic incumbent Rep. Debbie Wasserman Schultz, accusing her of having "used DNC resources to assist her re-election campaign in violation of federal law"

Canova released new TV spot featuring clips of Wasserman Schultz refusing to answer whether she would debate him
Wasserman Schultz said today she wouldn't gavel open Democratic Natl Convention later today, after announcing yesterday she'd resign as chairman of DNC; Earlier Story
Canova outraised Wasserman Schultz in 2nd quarter, pulling in $1.7m and ending the quarter with $986k cash on hand; Wasserman Schultz raised $1.3m and ended with $1.6m cash on hand, according to FEC filings

KS-01: Two new TV ads attacking Tim Huelskamp, one from his Republican primary opponent Roger Marshall and one from conservative super PAC ESAFund, accuse him of refusing to work with conservatives on House Agriculture Cmte, voting with Democrats, enrolling in Obamacare
Before it's here, it's on the Bloomberg Terminal.
LEARN MORE