U.K. Labour Warns Members Abusive Behavior Will Cost Their Vote
by
Female Labour lawmakers have complained of rape threats

Leadership contest pits Corbyn against challenger Smith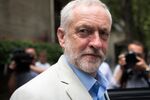 The U.K. Labour Party warned its members they risk losing their vote in the opposition's leadership contest if they engage in "abusive behavior" toward other members, in an attempt to end accusations that there's a culture of bullying in the party.
"If you are a member and you engage in abusive behavior towards other members, it will be investigated and you could be suspended while that investigation is carried out," Labour Party General Secretary Iain McNicol said in an e-mailed statement Monday. "If you are a registered supporter or affiliated supporter and you engage in abusive behavior, you will not get a vote in this leadership election."
Labour Party leader Jeremy Corbyn faces a leadership challenge from his former work and pensions spokesman, Owen Smith. Corbyn has lost the confidence of the bulk of his lawmakers but has refused to stand down, citing the overwhelming support he won from the party's grassroots members less than a year ago. Corbyn's lawmakers have said he's allowed his supporters to use intimidating behavior, even while condemning bullying himself.
Angela Eagle, who was the first to launch a challenge against Corbyn before withdrawing from the contest, had a brick thrown through the window of her constituency office earlier this month, while Corbyn himself said he'd had death threats. Last week, more than 40 female Labour lawmakers wrote to Corbyn to express concern at the "extremely worrying trend of escalating abuse and hostility towards MPs," calling on him to condemn those campaigning outside the offices of legislators and challenge hostile behavior.
"Rape threats, death threats, smashed cars and bricks through windows are disgusting and totally unacceptable," the lawmakers wrote.
The winner of the Labour leadership contest will be announced on Sept. 24 in Liverpool. Ballots will be sent out during the week beginning Aug. 22, with votes due in by Sept. 21.
"For a fair debate to take place, people must be able to air their views in an atmosphere of respect," McNicol said. "They shouldn't be shouted down, they shouldn't be intimidated and they shouldn't be abused, either in meetings or online. Put plainly, there is simply too much of it taking place and it needs to stop."
Before it's here, it's on the Bloomberg Terminal.
LEARN MORE