This Gun Appears in Massacres, Memorials, and Fitness Promotions
Free publicity for Glock's "supergun" in Reebok's CrossFit Games, a presidential speech, and mass murders across the globe.
By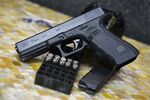 For more than 30 years, one gun company—Glock GmbH of Austria—has achieved a distinct notoriety that raises its profile and boosts sales. Consider recent news:
The shooter in the July 22 mass killing in Munich reportedly used a Glock 9mm semiautomatic pistol to murder nine people. International media coverage provided glossy images of the black plastic handgun, such as this one. Glocks are favored by mass shooters for the same reason they're preferred by many police departments and homeowners: The pistols are light, easy to use, unlikely to jam, and can accommodate large-capacity ammunition magazines. Mass killers carried Glocks in Orlando, Fla. (2016) and Charleston, S.C. (2015), and at Virginia Tech (2007), to name just a few examples.
On July 23, two Reebok CrossFit stores in Manhattan were overrun with protesters upset that Glocks were being awarded to winners of an annual fitness contest. The giveaways happened at the Reebok-sponsored CrossFit Games over the weekend in Carson, Calif. "Glocks should not be glamorized," New York City Public Advocate Letitia James said at the protest. But that's exactly what happened as a result of a week's worth of media coverage of the CrossFit-Glock controversy. (Reebok said it had no control over CrossFit's association with Glock and disagreed with the decision, a position held by several other sponsors.)
"It is easier for a teenager to buy a Glock than get his hands on a computer or even a book," U.S. President Barack Obama said during his remarks at a July 12 memorial service for five Dallas police officers killed by a lone sniper. Apart from the dubiousness of Obama's claim—it's illegal to sell a gun to a teenager, and even in a bad neighborhood it's almost certainly easier to borrow a book from the library than to obtain a black market handgun—there's the fact that when the president wants to refer to a pistol, he says "Glock." Not Smith & Wesson or Colt, two venerable American brands, but Glock. The Austrian brand truly is the Kleenex or Google of the handgun market. Its name is interchangeable with that of the product.
I discussed how this phenomenon developed in my 2012 book, GLOCK: The Rise of America's Gun. Since it was first exported to the U.S. in the mid-1980s, the Glock has drawn controversy and made headlines. All that attention accelerated the brand's acceptance by, first, American law enforcement and, second, the U.S. civilians who make up the richest handgun marketplace in the world.
In an early illustration of Glock's tendency to attract free publicity, gun control advocates attempted to get the pistol banned from the U.S. in the 1980s. Their argument: The Glock's plastic design would allow it to defeat airport x-ray machines, making the weapon a "hijacker's special." This fear led to congressional hearings and some local bans, including one in the city of New York.
QuickTake America and Its Guns
The attempt to demonize the Glock soon fizzled, however, because federal law enforcers testified that the brand did not present a special challenge. A gun-shaped piece of plastic could be identified by X-ray as a gun just as easily as a gun-shaped amalgam of metal and wood.
The headlines generated by the gun-control kerfuffle made the Austrian import the darling of the National Rifle Association and its members. In New York, the local ban evaporated after it was revealed that the then-commissioner of police, Benjamin Ward, was carrying a Glock under his suit jacket.  "Top Cop Wards Off Ban on Super Gun," the New York Post headlined its article.
Glock executive Josh Dorsey didn't immediately return a call seeking comment, but another company employee once remarked on all the attention paid to the gunmaker. "'Super gun,' can you imagine? You can't buy that kind of attention, not for $50 million, not for $100 million." So said Glock's first chief salesman in the U.S., Karl Walter. Walter's observation is still true today. And I suppose the fact that you clicked on and read this article proves it.

--With assistance from Eben Novy-Williams in New York.
Before it's here, it's on the Bloomberg Terminal.
LEARN MORE