The Mall of the Future Will Offer Dinner, Movies, and a Colonoscopy
But not in that order. E-commerce is driving out retailers, and boomers are aging—so here come the doctors.
By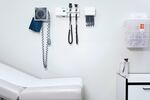 The Runway at Playa Vista in Los Angeles recently added a Whole Foods, a movie theater, and upscale shops and restaurants—retail center staples intended to attract affluent shoppers, condo-buyers, and tech companies to the mixed-use development. The next big tenant slated to move in, however, is a little different: A 32,000-square-foot doctors' office, where the Cedars-Sinai Health System plans to house outpatient services including obstetrics, gynecology, and pediatrics.