Sprint Soars After Signaling Progress in Claure's Turnaround
By
180,000 new subscribers beat analysts' 112,000 estimate

Net loss widened to $302 million in first fiscal quarter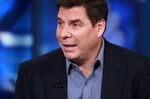 Sprint Corp. soared to a two-year high after posting its sixth straight quarter of subscriber gains, a sign of progress in Chief Executive Officer Marcelo Claure's plan to turn around the struggling wireless carrier.
The shares jumped 28 percent to $5.90 at the close Monday in New York, their biggest one-day advance since at least July 2013 and highest price since November 2014. With those gains, the stock is up 63 percent this year.
Sprint added 180,000 monthly subscribers, according to a statement Monday from the Overland Park, Kansas-based company. That beat the 112,000 average of six analyst estimates collected by Bloomberg. Of that, the nation's fourth-largest wireless carrier added 173,000 phone customers, compared with estimates for 72,200.
Though its loss widened, the nation's fourth-largest wireless carrier also surpassed expectations on two closely watched measurements: average revenue per user and earnings before interest and taxes.
Jonathan Chaplin, an analyst at New Street Research LLC who has a neutral rating on Sprint's stock, said he will now re-evaluate his assumptions about Sprint following the positive earnings report. He noted, however, that the beat comes in an unusual quarter for the wireless industry: Total churn, representing the share of customers who dropped service, was the lowest it's ever been ahead of a new iPhone launch. Sprint's postpaid phone churn of 1.39 percent improved 10 basis points to reach the lowest level in company history.
"It is difficult to know how much of the improving trend is driven by the general industry trend vs. improvements in their business relative to peers," said Chaplin. "The results were good enough that we are questioning our thesis at this point."
The results show that Claure's efforts to attract customers through the industry's most aggressive promotions, including half-price offers, may be working. Yet Sprint is still a long way from turning the corner. Costly missteps and price wars have left the company with seven straight years of losses. And with almost $37 billion in total debt, Sprint, which is controlled by SoftBank Group Corp., has had to skip a federal airwave auction, cut network spending by 30 percent and raise cash by mortgaging its own network gear and spectrum licenses.

Sales were $8 billion, matching analysts' estimates.
The company posted a net loss of $302 million, or 8 cents per share, compared with a net loss of $20 million, or 1 cent, a year earlier. The quarter included a $113 million charge to end a wholesale arrangement with Ntelos Holding Corp.
First fiscal-quarter earnings before interest and taxes excluding some items was $2.46 billion, beating estimates of $2.34 billion.
Average revenue per user was $51.54, compared with $50.85 analysts predicted.
Wireless service margin before interest, taxes, depreciation and amortization was 37.7 percent. Analysts predicted 35.4 percent.
The company also reaffirmed full-year forecasts: Operating income will be $1 billion to $1.5 billion; full-year capital spending will be $3 billion, excluding phone-leasing costs; and adjusted EBITDA will be $9.5 billion to $10 billion, the company said.