Singapore Banks Facing Earnings Stumble as Bad Loans, Sibor Bite
by and
Largest lenders may boost provisions for nonperforming loans

Drop in interbank borrowing costs may drag on interest margins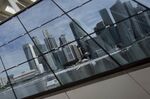 Earnings reports due soon from Singapore's largest banks may show their second-quarter profits were crimped by higher buffers for soured loans and a faltering rally in domestic interest rates.
Here are five charts illustrating the themes that may emerge out of the reports from DBS Group Holdings Ltd., Oversea-Chinese Banking Corp. and United Overseas Banking Ltd.:

Interbank borrowing costs have slumped this year as the local dollar strengthened, causing the three-month Singapore interbank offered rate to fall by 0.31 percentage point since December and by 0.13 percentage point in the April-June period. That may curb growth in banks' net interest margins as banks price their domestic loans in part on interbank rates. Margins have risen over the past year in tandem with a rally in Sibor.
As Sibor continued to fall in July, the banks' interest income will remain under pressure. Melissa Kuang, an analyst at Goldman Sachs Group Inc. in Singapore, lowered her forecasts for net interest margin growth by one to eight basis points across the three Singaporean lenders for 2016 through 2018, according to a July 19 report.

The banks' exposure to struggling oil and gas firms means they will probably declare higher provisions to cover the increased bad-loan ratios they're likely to report for the second quarter, according to UBS Group AG analyst Aakash Rawat. The lenders had an average NPL ratio of 1.13 percent in the first quarter and 0.9 percent in the second quarter of 2015. Overall classified loan exposure, which includes debts that are unrecoverable as well as those unlikely to be repaid, rose to a seven-year high of 0.92 percent by March, according to Monetary Authority of Singapore data.

Though oil prices have rebounded this year after 2015's historic rout, Singapore banks remain heavily exposed to energy-related companies that are still in the process of restructuring their finances, Moody's Investor Service said last month.
The ratings company downgraded its outlook for the lenders to negative from stable, citing the energy exposure and also challenges to economic and trade growth. The Singaporean banks derive most of their revenue from extending credit in Southeast Asia and Greater China, where economic expansion is slowing.

Singapore's economy expanded an annualized 0.8 percent in the second quarter from the previous three months, according to an advance estimate by the Ministry of Trade and Industry on July 14. While that was faster than the first quarter's 0.2 percent growth, DBS said in a note that day the figure was "fairly weak" given the economy's historical track record.
"Almost every single country where they have a presence is saturated with debt and seeing a slowdown in economic activity," Loo Kar Weng, an analyst at HSBC Holdings Plc, wrote in a July 13 note.
These trends mean that net income for the June quarter at DBS and OCBC probably fell 3 percent and 14.5 percent, respectively, according to the average estimates of six analysts compiled by Bloomberg. UOB may post a 0.9 percent increase.

OCBC and UOB, Southeast Asia's second and third-largest banks by assets, are due to post earnings on July 28. DBS, the region's top bank, will report on Aug. 8.
Before it's here, it's on the Bloomberg Terminal.
LEARN MORE