Sturgeon Says 'Hard Brexit' Concern Boosts Independence Case
by
Scottish leader says sovereignty may offer most stability

Predicts Britain heading for future outside single market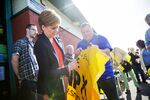 Scottish First Minister Nicola Sturgeon said the U.K. seems to be heading for "a future outside the single market, with only limited access" following last month's Brexit vote and independence may be Scotland's best option for stability.
The Scottish National Party leader said she's basing her assessment that Britain faces "a hard rather than a soft Brexit" on "early signs, whether from government appointments or initial pronouncements" from the U.K. government. New Prime Minister Theresa May appointed prominent Leave campaigners including Liam Fox and David Davis to key posts in her team.
"The outlook for the U.K. is uncertainty, upheaval and unpredictability," the first minister said in a speech in Edinburgh on Monday. "In these circumstances, it may well be that the option that offers us the greatest certainty, stability and the maximum control over our own destiny is independence."
Sturgeon has raised the prospect of a second referendum on Scottish independence to keep Scotland within the European Union following the U.K.'s decision to leave the bloc. Her semi-autonomous government is readying legislation to pave the way for another plebiscite. Scots voted by 55 percent to 45 percent in 2014 to stay in the U.K. and backed remaining in the EU last month, in contrast to voters in England and Wales.
High Barriers
Scotland is also looking at the possibility of remaining in both the U.K. and the EU, though the barriers are "high," Sturgeon said. "I don't underestimate the challenge of finding such a solution," she said. "Even if we can agree a position at U.K. level, we would face the task of persuading the EU to agree it."
Even so, Sturgeon criticized "those who want to rule out the possibility of success before we even try." May has described some of the options put forward by the Scottish government as "impracticable."
The prime minister visited Northern Ireland, which also voted to remain in the EU, on Monday and announced she was seeking a "practical solution" to the issue of what will happen to Northern Ireland's border with the rest of Ireland following the EU vote. The frontier, which about 30,000 people cross each day, is Britain's only land border with another EU country. "Nobody wants to return to the borders of the past," May said.
May has previously said she will not trigger Article 50 of the EU's Lisbon Treaty, the mechanism that will set off Britain's formal exit from the bloc, until there is a U.K.-wide consensus. Sturgeon linked the fates of Scotland and Northern Ireland in her speech, saying: "I think much of what might happen and hopefully be resolved in the Northern Irish context will have a read across into Scotland as well."

Sign up to receive the Brexit Bulletin, a daily briefing on the biggest news related to Britain's departure from the EU.
Before it's here, it's on the Bloomberg Terminal.
LEARN MORE