Pelosi Says Trump Boosts Prospects for Democratic Gains in House
The top House Democrat downplays the impact of the DNC chief's resignation.
By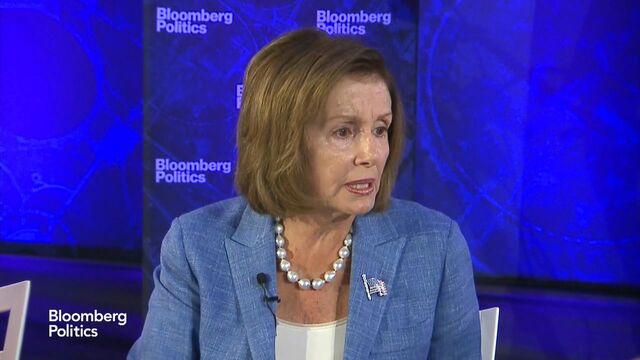 House Minority Leader Nancy Pelosi said having Donald Trump at the top of the Republican ticket will boost chances for Democratic gains in the House, though she stopped short of predicting her party can regain control of the chamber after the November election.
"He has really, shall we say, been the gift that keeps on giving," Pelosi said of Trump during a Bloomberg Politics breakfast with reporters Monday in Philadelphia, where Democrats are gathered to nominate Hillary Clinton as their presidential candidate.
Pelosi said that she knows Russians hackers breached the Democratic National Committee's e-mail system, but that she doesn't know if they are responsible for the release of the documents. The disclosure of e-mails indicating party officials tilting in Clinton's favor over Senator Bernie Sanders in the primaries forced Representative Debbie Wasserman Schultz to announce Sunday that she is stepping down as head of the DNC at the end of the convention.
Who is the chairman of the DNC doesn't matter, said Pelosi, adding that what is important is that Clinton is going to be the nominee. And she said that Trump's comments and campaign positioning will increase the Democratic voter turnout -- including boosting Hispanic registration -- and "diminish the Republican turnout.'' That will help House and Senate Democratic candidates, she said.
Pelosi gave her assessment of the congressional races when asked about an assessment from Tim Kaine, Clinton's pick as her vice-presidential running mate, that Democrats would likely not recapture this House majority this fall. She said she didn't share his opinion, but added, "I'm always an optimist as many of you know."
The current 247-186 Republican edge in seats is the largest Republican House majority since 1928.
 The Rothenberg & Gonzalez Political Report says 35 seats are in play, with 29 of those now held by Republicans. Races for most of those 35 seats are seen tilting or leaning more to one party, but 10 Republican seats and two Democrats seats are rated at "toss-ups."
Pelosi, 76, a Californian who served for four years as the first female speaker of the House, surrendered the gavel to Republican John Boehner after the 2010 election. She has taken exception to suggestions it may be time for her to step aside.
Much of the reason why Pelosi holds on to power is that she remains the party's rainmaker. As of April she had raised $56.1 million for House Democrats for this election cycle, including $44.6 million directly for the Democratic Congressional Campaign Committee.
Before it's here, it's on the Bloomberg Terminal.
LEARN MORE