Leaky Toilets at Athlete Village Add to Rio 2016 Budget Woes
By
Delegations found faulty wiring, poor lighting, "chaos"

Remedial work taking place before majority of athletes arrive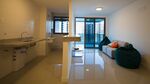 Already strapped for cash, Rio 2016 organizers are now on the hook for last-minute repairs to the athlete village, which at least one arriving delegation has called "unlivable."
When the first contingents from Australia, the Netherlands, Great Britain and the U.S. discovered leaking bathrooms, faulty wiring and unlit common areas in the athlete village, they complained quickly and publicly. Italian delegation head Carlo Mornati described the situation as "chaos." The Australian delegation said the accommodations are uninhabitable, and Argentina expects only three of its five allocated floors will be "liveable." The Netherlands Olympic Committee decided to fly staff to Rio earlier than expected to help deal with the fallout of the problems and to minimize disruption for its athletes.
The Rio 2016 organizing committee said builders are working 24-hours-a-day to make repairs at the 31-building site, which will be marketed as an exclusive, gated residential community after the Games. It expects athletes will be able to move in by the end of this week, and a spokesman for the committee said it is open to talking about compensation for delegations.
Meanwhile, the delegations are taking matters into their own hands. The Italian contingent has drafted local plumbers, masons and electricians to deal with the problems they've encountered, according to newspaper O Globo.
The Dutch delegation has said it is looking into billing the Rio 2016 organizers for extra costs related to problems at the Olympic Village. "We will evaluate this situation with IOC and Rio 2016 after the Games," the Dutch delegation said in an e-mailed statement. "This applies for example to financial consequences as a result of the measures we are taking and have been taken."
A demand for extra cash could be another strain on the local organizing committee, which has been struggling to stay within the 7.4 billion reais budget. Staff is likely to be cut between the Olympics and the Paralymics, spokesman Mario Andrada said in interview last week, and energy provision will be made "more efficient." Further cuts include spending on temporary facilities, in an overall effort to save 100 million reais ($30 million).
"Athletes that are arriving in the Village and whose accommodation is not finished will be placed in the best available accommodation in other buildings. We will be working hard to ensure that the ongoing works do not disturb their preparations for the Games," Rio 2016 said in a statement.