Julius Baer Profit Advances as Wealthy Clients Trade More
by
Bank reports 5 percent increase in first-half adjusted profit

Clients are 'back in the market' after Brexit vote, CEO says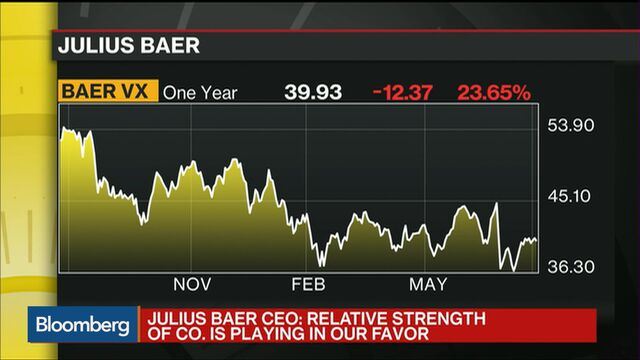 Julius Baer Group Ltd. reported an increase in first-half profit as Switzerland's third-largest wealth manager added new client money and hired private bankers.
Net income climbed to 362 million Swiss francs ($367 million) from 39 million francs a year earlier, the Zurich-based company said in a statement on Monday. Excluding a year-earlier provision related to a U.S. tax probe, adjusted net income and adjusted earnings per share increased by 5 percent. Assets under management climbed 4 percent to a record 311 billion francs.
"We expect investors to react positively to the better assets under management, net new money and revenue," all of which beat expectations, Nicholas Herman and Andrew Coombs, analysts at Citigroup Inc., said in a note to clients. "A slightly better gross margin in May and June should also have a positive read-across for Swiss peers."
Julius Baer has acquired businesses and hired bankers to help it chase wealth managers several times bigger such as UBS Group AG and Credit Suisse Group AG. The bank is reorganizing after integrating the Merrill Lynch non-U.S. wealth management business it bought in 2012 and resolving a years-long U.S. tax probe that wiped out most of 2015's profit due to a fine.
Julius Baer gained 4.7 percent, the most in five weeks, to 41.80 francs as of 11:55 a.m. in Zurich. The Bloomberg Banks and Financial Services Index rose 0.3 percent.
Client assets rose after the bank increased its stake in Italian asset manager Kairos Investment Management SpA to 80 percent and after the addition of 5.5 billion francs of client net new money. While net new money still lags an annualized target of 4 percent to 6 percent of managed assets, it recovered to 3.7 percent, compared with less than 3 percent previously reported for the first four months of the year.
The firm has signed more than 200 client-relationship managers from Credit Suisse and other Swiss, Asian and British private banks this year, Chief Executive Officer Boris Collardi said at a presentation in Zurich. About 50 of those advisers completed the move to Julius Baer by June 30.
Business momentum picked up in the second quarter and trading income was boosted by clients reacting to the U.K.'s vote to leave the European Union on June 23, Collardi said in a Bloomberg Television interview.
"Investors are back in the market, trying to understand what to do," Collardi said. "Activity levels have picked up across the board -- Asia, Europe, Americas -- and we see clients being engaged, needing a lot of guidance."
Before it's here, it's on the Bloomberg Terminal.
LEARN MORE