Jordan Says SNB Weighing Options If ECB, BOE Add Stimulus
By and
Swiss central bank president currently doesn't see need to act

Says low bond yields not ideal for foreign-reserve management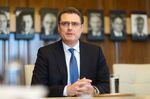 The Swiss National Bank is keeping a close watch on its U.K. and euro-area counterparts and has leeway to adjust policy if needed in the wake of the Brexit vote, President Thomas Jordan said.

"We are monitoring the situation very carefully: what are the consequences for inflation and growth in Switzerland, what are our policy options," he said in Chengdu, China, when asked whether easing by the European Central Bank or the Bank of England could force the SNB to step up its efforts. "The franc remains significantly overvalued, it's a big concern for us."
Jordan, speaking in an interview on Sunday, affirmed the SNB's two-pillar strategy, consisting of a negative deposit rate of minus 0.75 percent -- "where we still can go lower if necessary" -- and a pledge to intervene. Here "we also have the appropriate room to act," he said.
Economists say the SNB could take its deposit rate as low as minus 1.25 percent before investors begin to hoard cash in a bid to circumvent the charge, according to Bloomberg's most recent survey.

Following the U.K.'s June referendum decision to leave the European Union, the franc appreciated and SNB policy makers responded with interventions. Still, the franc would need to rise to 1.05 per euro -- from currently weaker than 1.08 -- for the central bank to cut rates, according to the survey. The SNB's foreign-currency reserves hit a record 608.8 billion francs ($618 billion) last month.
"The low level of interest rates is of course not ideal for foreign-currency reserve management, but monetary policy is expansionary everywhere," Jordan said. "That's an environment we can't change and we have to adjust our investment policy accordingly."
The SNB reduced the share of government bonds it holds to 68 percent in the first quarter from 71 percent in the previous three months. The portion of AAA rated securities fell to 59 percent from 61 percent, according to the most recent data available. Second-quarter data is due to be published this week.

Jordan said there is currently no need to adjust monetary policy in Switzerland even though the U.K's referendum, popularly known as Brexit, has the potential to weigh on economic prospects. Having contended with falling prices in 2015, the SNB currently sees inflation averaging 0.3 percent in 2017.
"There clearly are risks," but "whether they materialize or not is not in the hand of Switzerland," he said. "It depends on the decisions Europe will take and how strongly they will affect the global economy and financial markets" and "we hope, of course, that sensible decisions will be taken."
Sign up to receive the Brexit Bulletin, a daily briefing on the biggest news related to Britain's departure from the EU.