economics
Jokowi Hits His Stride in Indonesia With Tough-Talking Wins
By and
Jokowi Hits His Stride in Indonesia With Tough-Talking Wins
By and
Leader seeking to be tough both on terrorism and on neighbours

Tax amnesty bill aimed at helping finance key projects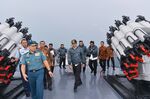 Joko Widodo won the Indonesian presidency in 2014 by campaigning as a man of the people who could tackle graft and stand up to the political establishment.
QuickTake Indonesia's Nationalism
Expectations soon soured as Widodo, known as Jokowi, struggled to control his government and break free of the very elites he initially outmaneuvered, including former president Megawati Soekarnoputri, who chairs his ruling Indonesian Democratic Party of Struggle, or PDI-P. With his agenda languishing, markets noticed -- the rupiah fell nearly 12 percent in his first year after taking office.
Fast forward nearly two years and Jokowi has notched up several policy wins, gotten his pick through for national police chief and is sounding tough on terrorism and against neighbors over territory, including China. Last month Indonesia's navy detained a Chinese boat near the Natuna Islands, arresting seven fishermen after firing warning shots into the air.
"We probably have to separate out the political from the economics, but politically he has really in quite an impressive way consolidated his position in the last year," said Greg Fealy, an associate professor at the Australian National University. Since a cabinet reshuffle in August, Jokowi has been "systematically distancing himself" from Megawati. 
"He has much more authority, he has a far greater ability to get things done and he's behaving more like the president that a lot of us expected that he would be," Fealy said. Still, his success "is highly contingent on the economy continuing to do well and infrastructure projects remaining on time."
In June lawmakers passed a bill for a controversial tax amnesty that lasts until March 2017 and which the central bank says will result in 560 trillion rupiah ($43 billion) of inflows over an unspecified period. The funds are needed to finance Jokowi's ambitious infrastructure agenda which includes a pledge to build ports, roads and railways to spur growth in Southeast Asia's biggest economy to 7 percent by the end of his term.
Impacting Budget
The tax amnesty will serve as a test for the president as it will impact the budget deficit "as well as Jokowi's priority program, including infrastructure, which will differentiate Jokowi from the previous governments," said Yunarto Wijaya, a political analyst at consultancy Charta Politika Indonesia.
Jokowi needs hundreds of billions of dollars for infrastructure in his first term, according to the Public Works Ministry. The state budget can finance about 40 percent of that, with 31 percent coming from private investors.
For a story from a recent interview with Indonesia's finance minister, click here.
"As a good governance measure and as a revenue measure it's a mixed bag, but the fact that they were able to get it through and avoid some of the really bad things that the DPR, the legislature, wanted to put into the bill, that's positive," said Aaron Connelly, a research fellow at the Lowy Institute for International Policy in Sydney, referring to the tax amnesty.
Another public relations win came last week after security forces announced they had killed the country's most wanted militant, Santoso. Long a thorn in the side of authorities, Santoso, who like many Indonesians uses only one name, was the leader of the Eastern Indonesia Mujahideen and declared allegiance to Islamic State in 2014.
Jokowi has slowly built alliances in parliament, where he now enjoys the support of more than two-thirds of lawmakers. One-by-one, opposition parties have been lured toward his coalition. Golkar, the party of former dictator Suharto, is the latest to signal its support.

Embroiled last year in a messy public dispute over who should become national police chief, Jokowi succeeded in February in getting his pick, former anti-terrorism chief Tito Karnavian, through. In doing so he passed over former Megawati aide Budi Gunawan, who is deputy police chief.
The president's popularity at home has also been boosted by his strong stance against drug crimes, with 12 foreigners executed by firing squad last year for narcotics-related offenses. Another round of executions is expected within days. His actions though have drawn international condemnation.
Natuna Meeting
At the end of June, when Jokowi donned a bomber jacket and flew to the Natuna area to meet some cabinet ministers on a warship, he sent a signal to China he took Indonesia's sovereign maritime rights "pretty seriously," said Connelly. The government plans to blow up three impounded Chinese fishing boats on August 17, Indonesia's independence day.
While Indonesia is not a claimant in the South China Sea, the line between what it views as its territory and what China sees as its has become increasingly blurred. A recent international court ruling rejected China's claim to exclusive rights to more than 80 percent of the waterway. Indonesia's foreign ministry has urged all parties to the dispute to show restraint.
There are challenges ahead for Jokowi. The economy expanded 4.92 percent in the first quarter, less than the median estimate of 5.07 percent in a Bloomberg survey. Weaker-than-expected global growth may blunt any recovery, and the government has already downgraded its expectations for 2016, including for spending.
Economic Risk
"The macroeconomic indicators are manageable, but the purchasing power in rural areas hasn't improved." said Josua Pardede, a Jakarta-based economist at Bank Permata. "At this point, the economic risk going forward will be more dominant that the political risk."
Jokowi's alliance also isn't rock solid, and parties in his camp still have their own interests, said Effendy Simbolon, a PDI-P lawmaker. The coalition, "may not stay long," he said. "Once one's interest is not accommodated, the coalition could be shaky and possibly break up."
While Jokowi is in the strongest position he's been so far as president, according to Connelly, "the fundamentals of his position are still relatively unstable."
"One misstep, whether it's on governance or managing elites could make a pretty big difference for him."
(
Updates with detail on drug crimes in 13th paragraph.
)